A typical IPMC is composed of an ionic polymer matrix sandwiched with two conductive electrode layers. Therefore, the preparation of IPMC includes the selection of the ionomer and the formation of electrodes, both of which have a great influence on the performance of IPMC. This section mainly introduces the latest progress of IPMC in matrix membrane and electrode preparation process.
Selection of ionomer membrane
Commercial ionomer membranes
(1) Water based-Nafion
The selection of the ionomer is the first step of IPMC preparation, which has an important impact on the properties of IPMC, including the ion migration velocity and the overall elastic modulus. At present, the most commonly used matrix membrane for IPMC is perfluorinated sulfonic acid membrane (Nafion) because of its high ion capacity and stable chemical and mechanical performance[24]. The molecular formula and microstructure diagram of Nafion are shown in Figure 3A and B, respectively. The long carbon-fluorine chain forms the skeleton structure of Nafion, and the short side chain ends with a sulfonic acid group, which can bond with cations through ionic bonds and agglomerate to form nanochannels[36]. The water molecules contained in the nanochannel can dissociate the sulfonic acid group linked cations into hydrated cations and migrate in the nanochannel. Therefore, Nafion presents a solid-liquid two-phase structure at the micro-nano level. The solid phase serves as a skeleton to support the entire polymer structure, while the liquid phase accommodates free ions and acts as a route for ion migration[37]. The pure Nafion can absorb different solvents to form the liquid phase, by which the water phase is commonly used. In addition, the cation types can be exchanged into the Nafion by soaking different alkali solutions, including Li+, Na+, K+, etc.[38-40]. When a voltage is applied, the cations inside clusters will migrate to the cathode side under the action of electrostatic forces, resulting in a sharp increase in the stress and ion concentration of the cathode. Then under the action of elastic and osmotic forces, the cation clusters will diffuse toward the anode again; meanwhile, the deformation of the IPMC will relax, which is known as the back relaxation phenomenon[41].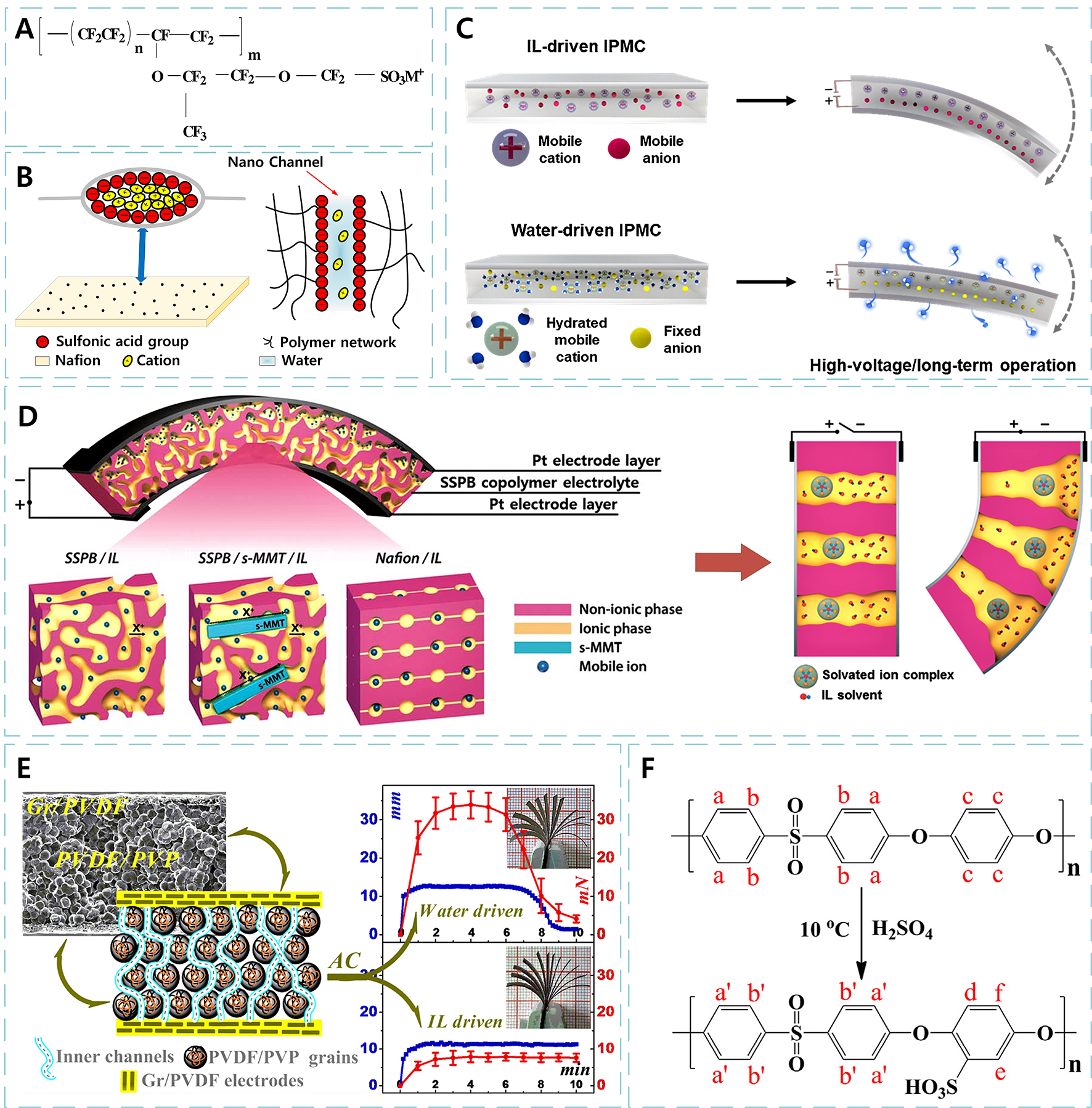 Figure 3. Ionomer of IPMC. (A) Chemical formula of Nafion. (B) Schematic diagram of Nafion microstructure. (C) Working performance of IL-driven IPMC and water-driven IPMC. Reproduced with permission from Ref.[44]. Copyright© 2021 The Korean Society of Industrial and Engineering Chemistry. (D). SSPB-based IPMC actuator. Reproduced with permission from Ref.[50]. Copyright© 2013 The Royal Society of Chemistry. (E) PVDF-based IPMC actuator. Reproduced with permission from Ref.[56]. Copyright© 2019 American Chemical Society. (F) Sulfonation reaction on PEES. Reproduced with permission from Ref.[57]. Copyright© 2015 Elsevier Ltd.
(2) Ionic liquid (IL)-Nafion
Due to the low viscous force of water, the back relaxation phenomenon of water-based Nafion is particularly obvious. Some researchers proposed to use IL with higher viscous force as the internal solvent of Nafion. Lee et al. studied the performance of IPMC with four different ILs as solvents, and showed that the performance of IL-IPMC mainly depends on the size of anions and ion mobility in ILs[42]. Due to the volatile property and low electrolytic voltage of water, it will constantly evaporate and be electrolyzed during the operation of water-IPMC, resulting in performance degradation over time[43]. On the contrary, ILs are not volatile as solvent, which can greatly improve the long-term working stability and compressive resistance of IPMC, as shown in Figure 3C[44]. However, IL-IPMC also has some disadvantages. For example, due to the high viscous force of ionic liquid, the resistance of ion migration is larger, which prolongs the response time of IPMC and even reduces the blocking force[45]. In order to solve the problem of long response time of IL-IPMC, Safari et al. tried to exchange lithium ions to ILs, aiming to enhance the ionic conductivity, capacitance characteristics, tip displacement and response speed[46]. The addition of lithium ions made the tip displacement of IPMC increase by 26 times and decreased the actuating attenuation with time. Wang et al. used methylammonium formate, a special IL with low viscosity, small ion size, high ionic conductivity and excellent electrochemical stability, as the solvent of IPMC, enabling it to achieve greater displacement, blocking force and response speed[44].
(3) Other commercial ionomers
In addition to Nafion, there are some other commercial perfluorinated olefin polymers that have been used as matrix membranes for IPMC, including perfluorinated carboxylic acid membrane Flemion[47] and Aciplex[48], perfluorinated sulfonate membrane Selemion[49]. For instance, Zhu et al. used Flemion as the matrix membrane to prepare an IPMC and tested its electromechanical response[47]. Compared with Nafion-IPMC, Flemion-IPMC has smaller relaxation deformation. Besides, the deformation rate of the IPMC prepared by the perfluorinated carboxylic acid film is slower, which is caused by the slow and continuous secondary dissociation of the weak acid group -COOH on the anode. The synthesis of perfluorinated carboxylic acid membranes is more complex compared with Nafion, which makes Nafion remain the most widely used commercial matrix film for IPMC preparation.
Novel ionomer membranes
Due to the drawbacks of commercial ionomers, such as high cost, small blocking force and back relaxation phenomenon, some researchers have tried to develop new ionic polymers for IPMC. Jo et al. summarized some novel ionic polymers developed prior to 2013 in Ref.[24], such as Sulfonated poly(ether ether ketone) (SPEEK), sulfonated poly(styrene-b-ethylene-co-butylene-b-styrene) (SSEBS), sulfonated poly(styrene-ran-ethylene) copolymer (SPSE), and sulfonated poly(arylenethioethersulfone) copolymer(SPTES). Therefore, in this review, we mainly describe the new ionic polymers after 2013, including sulfonated styrenic pentablock copolymer ionomer (SSPB), sulfonated polyvinyl alcohol (SPVA), poly(vinylidene fluoride) (PVDF), and so on.
(1) SSPB-based ionomer
SSPB is a kind of pentablock copolymer, which has been regarded as an alternative for Nafion in recent years. It can produce well-defined microphase-separated ionic domains on the scale of several tens of nanometers, which could work as more effective ion conduction channels than very small ionic clusters of Nafion on the scale of a few nanometers. Lee et al. prepared an SSPB/s-MMT-IL IPMC actuator with IL as the internal solvent, as shown in Figure 3D[50]. In detail, they added sulfonated montmorillonite (s-MMT) into SSPB copolymer dispersion, and the dispersion was cast onto a glass plate to obtain an SSPB/s-MMT membrane. Compared with Nafion-IL IPMC, it exhibits larger bending deformation and higher response speed, and also avoids the defect of back relaxation, because the sheet-like morphology of the inserted s-MMT particles promotes ion migration across adjacent ion channels. Subsequently, they introduced composite fillers with higher sulfonation degrees and aspect ratios to further improve the actuating performance. A novel SSPB/sGO-IL IPMC actuator was fabricated by embedding sulfonated graphene oxide (sGO) as a highly ionic conductive activated carbon filler in SSPB membrane, which has a better performance in bending strain, initial strain rate and charge-specific displacement[51].
(2) SPVA based ionomer
As a non-perfluorinated and sulfonated polymer, SPVA has various advantages, such as good forming capability, short processing time, low cost of fabrication, high thermo-mechanical stability, and excellent exchange and water-holding capacities. Inamuddin et al. prepared an SPVA/Py-Pt IPMC by casting the mixture of Polypyrrole (Py) and SPVA at 45 °C[52], which has high water-holding capacity under high applied voltage. The existence of Py coating with good water absorption capacity can prevent water molecules from leaking through cracks, so that the longest working time of the actuator at 5 V can reach 16 min. Besides, they also prepared an SPVA/PANI IPMC by replacing Py with polyaniline (PANI). The good conductivity and high redox cyclability of PANI not only improved the bending rate and displacement, but also minimized the back-relaxation phenomenon[53]. On the basis of SPVA/PANI copolymer, Luqman et al. further introduced silicotungstic acid (SA) to prepare a terpolymer, which enhanced the electrical conductivity and actuation ability of IPMC[54].
(3) PVDF base ionomer
Poly (vinylidene fluoride) (PVDF) has emerged as a promising candidate to replace Nafion, considering its excellent thermal stability, low chemical resistance, and moderate mechanical strength. It is worth noting that PVDF is one of the piezoelectric materials. However, the inherent hydrophobicity makes it difficult to absorb the liquid electrolyte. In addition, PVDF does not exhibit ion-exchange capacity (IEC) due to the absence of ionic and carboxyl plasma exchange groups on its side chains. Doping with hydrophilic materials may provide an opportunity for it to serve as a polymer matrix of IPMC. Mehraeen et al. prepared a high-performance PVDF/poly (styrene sulfonic acid) (PSSA) IPMC using a simple and novel method of radiation grafting PSSA, a well-known hydrophilic conductive functional group, onto PVDF, the fabrication of which is rapid and simple compared with the traditional Nafion-IPMC[55]. Guo et al. developed a polar PVDF/PVP film with a highly porous structure as an enhanced internal channel that supports significant ion migration by casting the mixture of the hydrophilic polymer polyvinyl pyrrolidone (PVP), PVDF and IL with a mass ratio of 2:1:1[56]. By introducing PVP, the composite membrane can adsorb different solvents to prepare water-IPMC or IL-IPMC actuator, as shown in Figure 3E[56].
(4) Others
In addition to the aforementioned materials, some other ionic polymers also have been developed for the preparation of IPMC. For instance, Xue et al. obtained a sulfonated poly(ether ether sulfone) (SPEES) membrane with high ion exchange capacity (IEC) and water uptake (WU) through a simple sulfonation reaction on commercial poly(ether ether sulfone) (PEES) membrane, as shown in Figure 3F[57]. The performance of the prepared SPEES IPMC is comparable to that of Nafion IPMC except for lower fabrication cost. Guo et al. synthesized a sulfonated diphenyl fluorene blocked polysulfone (SDPF-b-PSU) by varying sulfonic concentration via block copolycondensation reaction between dichlorodiphenyl sulfone (DCDPS) and Bis(4-hydroxyphenyl) fluorene (BHPF)[58]. When applying a voltage of 4 V, the blocking force of the prepared SDPF/PSU IPMC is 11 times that of the Nafion-IPMC under the same size. Besides, thorium (IV) phosphate (ThP), sulfonated poly(arylene ether ketone) (SPAEK), sulfonated polyether ether ketone (SPEEK), sulfonated polyvinyl chloride (SPVC) Kraton, etc.[59-64] are also candidates to substitute Nafion.
The performances of IPMC prepared by different ionic polymers are summarized and compared in Table 1. The strain ε can be expressed as ε = 2ds/(s2 + l2), where l is the free length, d is the thickness and s is the tip displacement. It can be seen that IEC, WU and conductivity will all affect the performance of IPMC. At present, the development of ionomer membranes has achieved good results in terms of performance, and the research direction in the next stage should be focused on the mass preparation of new ionomer films commercially.
Table 1
Performance comparison of IPMC prepared by different ionic polymers
Ionomer
IEC
(mMol/g)
WU
(wt%)
Conductivity
(mS/cm)
Maximum bearing voltage
(V)
Maximum strain
(%)
Maximum blocking force (mN)
Reference
Nafion
0.91
22
23
2.5
0.84
5
[23,64]
SSPB/S-MMT
1.5
150
42
3
0.8
3
[50,64]
SSPB/SGO
160
60
2
0.88
[51]
SPVA/Py
1.2
82.3
1.6
5.25
0.31
1.864
[52]
SPVA/PANI
1.6
425
1.7
5.25
0.52
0.08
[53]
SA/SPVA/PANI
1.6
245
1.9
3
0.36
[54]
PVDF/PSSA
1
62
85
4
0.33
[55]
PVDF/PVP
0.8
44.2
0.8
15
1.68
33.33
[56]
SPEES
2.1
58
65
3
0.40
[57]
SDPF
2.62
42.9
27
4
0.66
1.3
[58]
Thp/PANI
1.6
95.4
1.12
4.2
0.27
2.02
[59]
SPEEK/PANI
1.98
49
1.97
2
0.22
0.31
[61]
SPVC/PTA
1.98
57
1.6
4
0.42
0.242
[62]
Kraton
2.1
71.05
1.93
4
0.38
0.343
[63]
Formation of electrodes
The characteristics of the electrode, such as the conductivity, thickness, type and interface area, all have important effects on the performance of IPMC. Metal electrode materials, such as palladium, platinum, gold, etc., were usually used to form electrodes for IPMC because of their stable electrochemical properties. Some researchers also tried to use non-metallic electrodes to replace metal electrodes for the purpose of improving the performance of IPMC, but there is no substantial advantage except for reducing the preparation price. At present, the electrode formation methods of IPMC can be divided into physical methods and chemical methods.
Physical methods
The physical method, also known as mechanical plating method, is the most direct and fast way to prepare electrodes for IPMC, which is cheap and convenient for large-scale preparation. The electrodes of IPMC prepared by physical method usually show high uniformity. At present, the widely used physical methods mainly include physical vapor deposition, solution casting, hot-pressing, direct assembly process, etc.
(1) Physical vapor deposition
Physical vapor deposition (PVD) refers to a technology that vaporizes the material source surface into gaseous atoms or molecules (or partially ionizes into ions) under vacuum conditions, and deposits a film with a particular function on the substrate surface by low-pressure gas (or plasma). According to different working mechanisms, PVD can be classified as evaporation coating, sputter coating and ion coating[65], among which sputter coating is most commonly used in electrode formation of IPMC. Gudarzi et al. fabricated an IPMC sensor by sputtering a layer of gold electrodes on the surface of Nafion 117[66]. In order to improve electrode adhesion, sputter coating is usually combined with surface roughing techniques like plasma etching. For instance, Fu et al. developed an automatic equipment for large-scale preparation of IPMC by combining in situ plasma etching and magnetron sputtering technology[67]. Through parameter editing, the equipment can prepare IPMC sensors with silver electrode of different shapes. After plasma treatment on the matrix surface, Esmaeli et al. sputtered a layer of titanium or chromium between the gold electrode and Nafion matrix [Figure 4A], which further improved the adhesion between the electrode and the ionomer[68].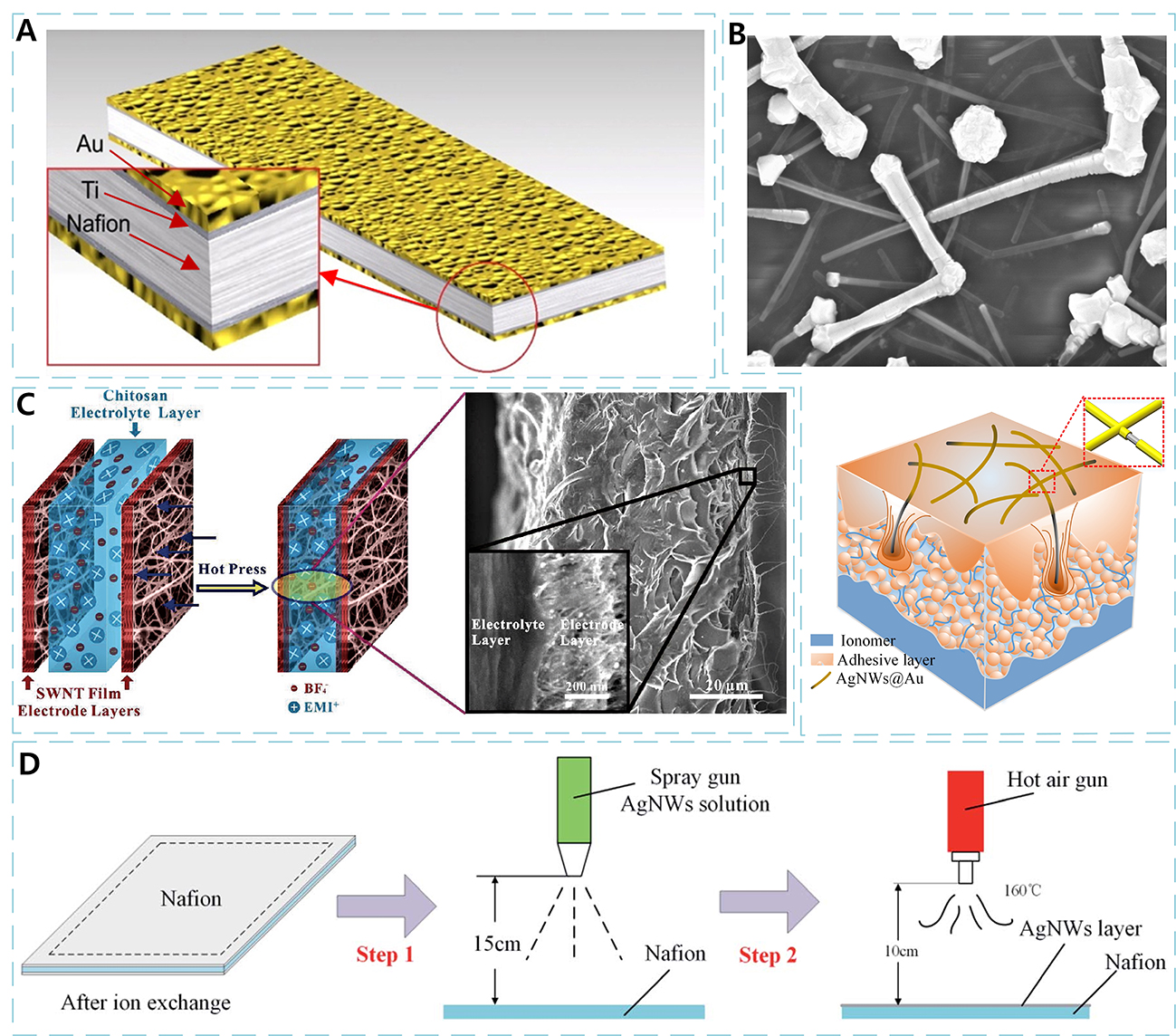 Figure 4. Physical methods of electrode formation. (A) IPMC sputtered with titanium or chromium between Au electrodes and the matrix. Reproduced with permission from Ref.[68]. Copyright© 2017 Elsevier B.V. (B) Electrodes with biological hair structure prepared by solution casting. Reproduced with permission from Ref.[73]. Copyright© 2022 American Chemical Society. (C) A novel actuator prepared by hot-pressing. Reproduced with permission from Ref.[75]. Copyright© 2011 American Chemical Society. (D) Method of spraying the silver nanowire solution on the surface of Nafion. Reproduced with permission from Ref.[35]. Copyright© 2020 The Royal Society of Chemistry.
Sputter coating provides a controllable way for electrode formation of IPMC, as well as reducing the manufacturing time to less than 2 h (usually 12 h in chemical methods)[67]. Besides, this method can deposit a variety of different metals on the surface of substrate film, and the thickness of electrode is controllable and the uniformity is good. However, electrodes generated by sputter coating generally have poor adhesion and are prone to cracking or even peeling when used. Mousavi et al. compared the performance of IPMC actuators and found that the tip displacement of IPMC through sputtering was smaller than that by electroless plating[69]. In addition, obvious electrode cracking was observed in the experiment, which was caused by the poor adhesion between electrode layer and ionomer matrix[69].
(2) Solution casting
Solution casting is to put the ionic polymer solution into the mold and make it volatile and solidify by heating to get a certain shape of the film, which is generally used in the preparation of matrix film[70]. This section mainly discusses the research of solution casting methods used in electrode formation for IPMC. Generally, conductive particles are mixed with ionic polymer solution firstly, and then poured onto the surface of ionic polymer matrix film. After volatilization and curing, a layer of electrode will be formed. Chung et al. obtained electrodes with a thickness of 15 μm by dispersing silver nanoparticles into Nafion solution and casting it on Nafion film[71]. It is worth noting that in order to improve the adhesion between the ionomer membrane and the electrode, the solution used to cast the electrode is generally the same type as the matrix. Khan et al. prepared a high-performance Kraton IPMC actuator by dispersing silver nanoparticles in Kraton solution and then pouring it onto Kraton matrix film[72]. The same approach was successful after replacing silver nanoparticles with platinum[63]. Electrodes prepared by solution casting generally have high resistance because the conductive particles are partially coated by polymers. Hence electroplating or similar techniques are usually required to further reduce the surface resistance. Zhao et al. sprayed a layer of Nafion solution on the surface of Nafion membrane as the connecting layer after heating and curing, and then sprayed a layer of ethanol dispersion of silver nanowires on the surface[73]. The silver nanowires were partially embedded in the connecting layer (Nafion solution layer after curing) by the alcoholization of Nafion, similar to biological hair structure, as shown in Figure 4B. Finally, the surface resistance was reduced from 10 Ohms to 1.5 Ohms by electroplating.
The solution casting method has the advantages of simple operation, fast preparation and low cost. Due to the same properties of the matrix film and the casting solution, the strong chemical bond between the electrode layer and the matrix results in a strong connection between them. However, the thickness of the electrode layer is difficult to control as a result of the volume reduction caused by solution volatilization during curing. In addition, during the casting process, the solution will spontaneously level under the action of gravity, so the slight tilt of the matrix will lead to severe uneven electrode thickness.
(3) Hot-pressing
Hot-pressing is a method to obtain IPMC with a certain thickness quickly. Firstly, all layers are put into the mold according to the order of electrode-matrix-electrode. Then the mold is placed on the hot press platform and pressurized under heating conditions. The edge of the laminated structure will be fused under high temperature and then resolidified as a whole under pressure. Some scholars combined hot-pressing with surface plating by embedding silver nanoparticles in Nafion membrane to prepare the electrodes of IPMC[74]. Nevertheless, this stacking method seems to be more suitable for the formation of non-metallic electrodes. Li et al. prepared a novel actuator by hot-pressing two SWNT films as electrode layers together with a chitosan matrix at 70 °C and 150 N for 2 min, as shown in Figure 4C[75]. It can be seen from the electron microscopy figure that there is no gap between the electrode and the matrix. Ru et al. developed a new Ionic polymer actuator by hot-pressing the self-made multi-space carbon nanotube film onto Nafion/IL hybrid membrane at a pressure of 16 kg cm-2 and the temperature of 180 °C for 30 min, which showed a good actuating performance[76].
Hot-pressing method has simple operation and good repeatability, and it is easier to control the overall thickness of the actuator compared with solution casting. However, it is difficult to control the separate thickness of core layer and electrode layer after hot-pressing. Besides, due to the high temperature and pressure during the preparation, the prepared IPMC generally has a large residual stress that needs to be eliminated by means of heating and washing, which may also lead to some changes in the shape of the material.
(4) Direct assembly process
Direct assembly process (DAP) is to form the electrodes by means of coating or spraying the electrode particle dispersion solution directly on the polymer surface. In order to improve the adhesion between electrode and matrix, the surface electrode can be further treated by hot-pressing. Akle et al. dispersed the conductive particles in the polymer solution and directly applied them on the surface of the ionic polymer matrix film to form electrodes, and then hot-pressed them to further improve the adhesion between the electrode and the matrix film[77]. The same way using carbon materials also achieved good results[78]. When preparing IPMC with gradient shape, Zhu et al. directly applied conductive silver paste on the surface of Nafion and pasted a layer of copper foil on it, then an electrode layer with good conductivity was formed[79]. In addition to coating, spraying is also an effective DAP method. Wang et al. directly sprayed the silver nanowire solution on the surface of Nafion through a spray gun [Figure 4D], forming a very uniform electrode[35].
When using DAP method, electrode composition can be selected freely and electrode thickness can be controlled. However, the large manual error reduces its repeatability. Besides, because the electrode solution is simply smeared on the matrix film, the adhesion between the electrode and the matrix is poor. Simple clamp holding or small tangential force may lead to electrode peeling. Meanwhile, the matrix film will absorb the water in the electrode solution and swell, which will lead to the folding of the surface electrode after drying.
Chemical methods
High interface area is a guarantee of the excellent performance of IPMC. However, the electrode prepared by most physical methods can only be attached to the ionomer surface (called surface electrode), which is difficult to grow into the ionomer to form a valuable interface electrode. Although some physical methods such as hot-pressing can also form certain interface electrodes to some degree, it exhibits structural characteristics due to the uniform distribution of electrode particles. While electrodes formed by chemical methods generally grow from the ionomer surface to the interior and the growing process is gradual, so the interface electrode exhibits natural and non-structural characteristics. This gradient distribution of interfacial electrode will play a good buffer role in the ion migration process, so chemical methods are the most commonly used methods to prepare high-performance IPMC. Currently, the most commonly used chemical methods mainly include electroless plating and electroplating.
(1) Electroless plating
The general mechanism of electroless plating is to reduce metal cations by reducing agents and depositing them on the inner and surface of the ionomer film to form metal electrodes. Takenaka and Millet reported two different electroless plating methods, respectively, known as reductant permeation (RP)[80] and impregnation-reduction (IR)[81]. In a typical RP process, the reducing agent and metal ions solutions are placed on both sides of the ionomer membrane, and the reducing agent penetrates into the membrane from one side and reacts with the metal ions permeating from the other side. This method can effectively obtain electrode layers with different kinds of metals. However, it has not been used on a large scale because the operation of placing two different solutions on both sides of the membrane is not convenient[80].
Compared to RP, the operation of IR is more convenient, and it is easier to form firm and durable metal electrodes. The operation steps of a typical IR process are shown in Figure 5A. Wang et al. combined this method with electroplating to prepare an IPMC with a palladium-gold electrode[28]. Firstly, the ionomer membrane was pretreated by ultrasonic cleaning, hydrochloric acid washing and deionizing water washing. The purpose of this step was to clean the surface and interior of the substrate film. Then, the pretreated membrane was immersed in the Pd(NH3)4Cl2 alkaline solution of 0.01 mol/L, and the Pd ammonia ions were fully transported into the matrix membrane by shaking in water. Subsequently, the soaked membrane was put into the NaBH4 alkaline solution of 0.02 mol/L, and the internal palladium cations were reduced to palladium electrode on the membrane surface, as shown in Figure 5B. Finally, the prepared palladium IPMC was coated with gold to reduce the resistance. The IR method can also be used to prepare IPMCs with metal electrodes of other types, and platinum electrode was plated on a Nafion membrane by this method, as reported by Millet et al.[81]. Besides, Byun and Yang et al. achieved the preparation of Cu-IPMC[82] and Au-IPMC[83] through IR method, respectively.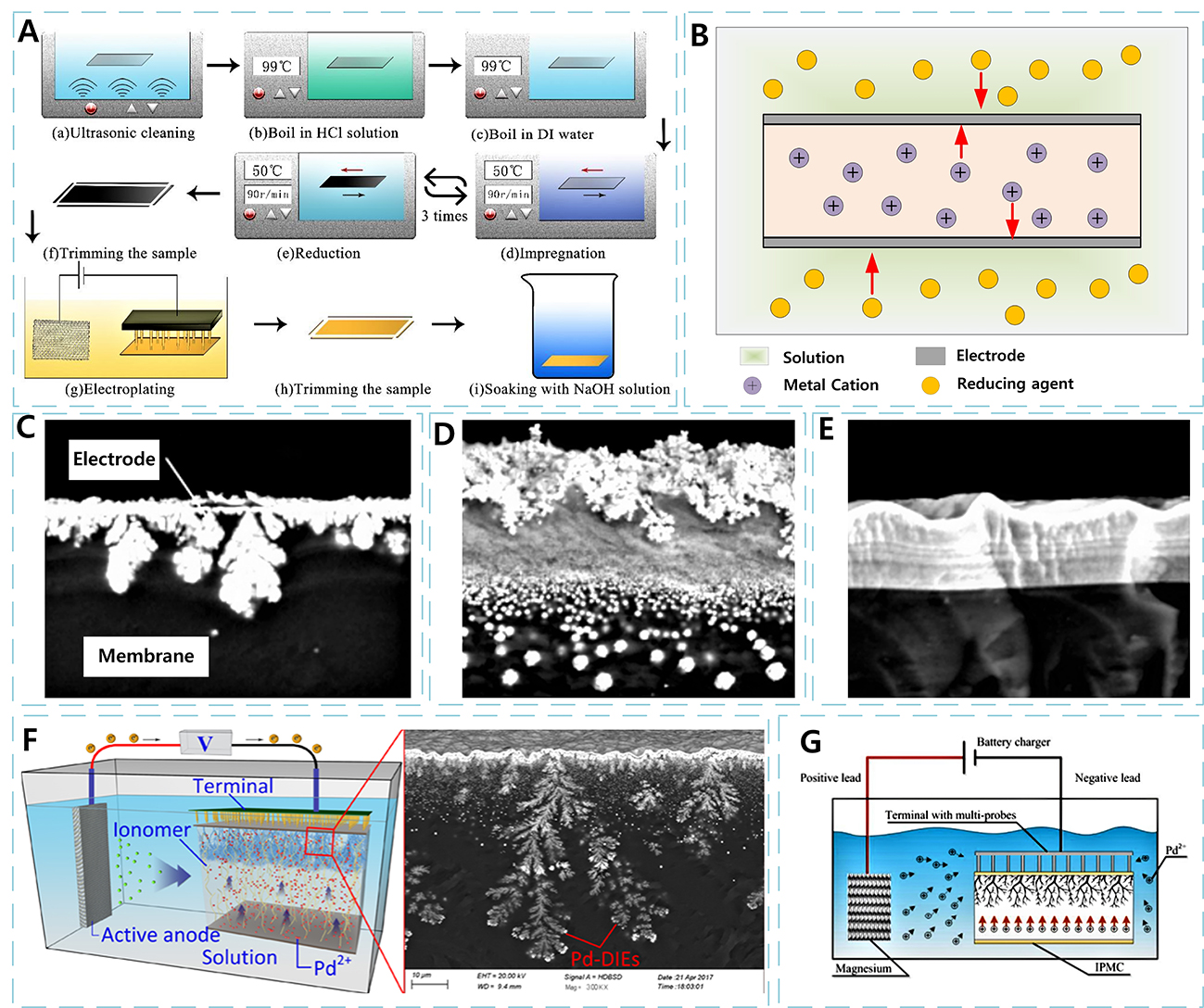 Figure 5. Chemical methods of electrode formation. (A) Typical process of IR. (B) Reduction of palladium cations to palladium electrode. (C) Dendritic interfacial electrode. (D) Particle interfacial electrode. (E) Layered interfacial electrode. (F) DIE formation through impregnation electroplating. Reproduced with permission from Ref.[34]. Copyright© 2017 American Chemical Society. (G) Set-up of electroplating. Reproduced with permission from Ref.[34]. Copyright© 2017 American Chemical Society.
Contrary to the IR method, Chung et al. proposed a method called reverse electroless plating (REP)[84], which is to soak the ionomer in reducing agent and solution with ions in order to form the electrode. The metal particles formed by the REP method have a smaller diameter and a more uniform distribution in the membrane, and the overall surface roughness of the electrode is smaller.
The electroless plating method can produce firm and durable electrodes, and the electrode layer penetrates into the substrate film, which greatly improves the actuating and sensing performance of the IPMC due to the capacitance enhancement. However, electroless plating is time-consuming, expensive and complicated. In the preparation process, the amount of each reagent needs to be carefully controlled; even extremely slight errors may lead to electrode defects; therefore, the thickness and uniformity of the prepared electrode cannot be accurately controlled. In addition, the type of metal will have a great influence on the electrode morphology; there are mainly three types of electrodes, namely dendritic interfacial electrode (DIE), particle interfacial electrode and layered interfacial electrode represented by gold, palladium, and platinum, respectively [Figures 5C-E][85-87]. Among them, the IPMC with Au electrode shows the best performance due to the high interface area of the DIE. However, the preparation of Au-DIE requires complex procedures and harsh conditions. In response to this problem, Wang et al. proposed a rapid, facile and efficient route to form the DIEs microstructure inside an ionomer, which was dominated by impregnation electroplating (IEP)[34]. Firstly, they used IR method to form an initial electrode layer on the surface of a Nafion film and immersed it in Pd(NH3)4Cl2 solution sequentially before electroplating it at DC 5 V. Palladium ions migrated to the cathode inside the film and were reduced to form a DIE layer, as shown in Figure 5F. Formation of DIEs has also been successfully achieved in the validation of other metals (e.g., Pt, Ag) and other matrix films (e.g., Aciplex).
(2) Electroplating
Apart from obtaining DIE, electroplating is generally used for rapid reduction of surface resistance, the principle of which is to deposit metal ions on the membrane of electrolytic cell cathode by electrochemical reaction. Generally, the metal solution to be plated is used as the electrolytic cell, the anode of the power supply is connected with the titanium mesh and the cathode is connected with the ionomer membrane to be coated [Figure 5G][34]. The ions to be plated will be deposited on the surface of the ionomer cathode under the electrochemical action. Taking electroplating Au as an example, Au ions are reduced to form a layer of gold electrode at the cathode, while hydroxide ions are oxidized to oxygen and water on the surface of the titanium mesh at the anode.
Since electroplating requires an electrochemical reaction, it is necessary to deposit a layer of electrode on the outside of the ionomer membrane by other methods to make it conductive, so the electroplating method is usually used in conjunction with solution casting, hot-pressing, electroless plating, and so on[28,73,74].
The advantages and disadvantages of different electrode forming methods are concluded and listed in Table 2. All in all, the physical methods have a faster preparation speed, but the adhesion between the electrode layer and the matrix is poor. While the IPMC prepared by chemical method has better performance, the cycle time is long and the cost is expensive. Therefore, how to select the preparation process needs to be evaluated in combination with specific application scenarios.
Table 2
Advantages and disadvantages of different electrode forming methods
Preparation methods
Advantages
Disadvantages
Physical methods
Physical vapor deposition
1. Controllable electrode thickness
2. Good electrode uniformity
3. Fast preparation speed
4. Suitable for large-scale preparation
1. Expensive cost
2. Poor electrode adhesion
3. Electrode prone to cracking
Solution casting
1. Simple operation and low price
2. Relatively good electrode adhesion
1. The electrode thickness is difficult to control
2. Easy to cause uneven electrode thickness
3. High surface roughness of electrode
Hot-pressing
1. The overall thickness of the driver is controllable
2. Good repeatability
1. High temperature and pressure conditions are required
2. The electrode layer thickness is not controllable
3. Large residual stress and easy to deform
Direct assembly process
1. Simple operation and low price
2. Controllable electrode thickness
1. Poor electrode adhesion
2. The electrode is prone to crimp
3. Poor capacity to withstand tangential forces
Chemical methods
Reductant permeation
1. Effectively obtain electrode layers based on different metals
1. Harsh experimental conditions
2. Complex operation
Impregnation-reduction
1. Firm and durable electrode
2. High performance in actuating
3. The interface electrode can be formed effectively
1. Long preparation time
2. The process is tedious and delicate
3. The thickness and uniformity of the electrode are difficult to be controlled
Reverse electroless plating
1. The electrode particle diameter is small
2. Low surface roughness
1. Similar to impregnation-reduction
Electroplating
1. The operation is simple and fast
2. Effectively reduce the surface resistance
1. It needs to be used in conjunction with other methods