INTRODUCTION
Piezoelectrics represent a category of materials that generate electrical charges in response to mechanical stress and vice versa, and have been extensively explored for power devices, transducers, pressure sensors, etc.[1,2]. Although conventional piezoelectric materials such as zinc oxide (ZnO)[3], lead zirconate titanate (Pb(ZrxTi1-x)O3, PZT)[4,5], barium titanate (BaTiO3, BTO)[6-8], lithium niobate (LiNbO3, LN)[9], potassium sodium niobate ((K, Na)NbO3, KNN)[10], polyvinylidene fluoride (PVDF) and its copolymers[11-13] have demonstrated excellent piezoelectric properties, the presence of toxic or non-biodegradable constituents poses great challenges for use as biomedical implants. Although biotoxicity could be controlled by encapsulation, potential leakage of hazardous constituents still exists, and the non-degradable components could result in unnecessary materials retention associated with infection risks and dilemma of materials retraction. By contrast, biodegradable organic piezoelectric materials are attracting great interest due to their desirable biocompatibility and biodegradability that could eliminate retrieval surgeries[14-16]. Materials candidates include synthetic biodegradable polymers (e.g., poly(L-lactic acid), PLLA), protein-based polymers (e.g., gelatin), polysaccharides (e.g., chitosan) and amino acids. Although the piezoelectric constants of organic biodegradable materials are often much smaller compared with non-degradable piezoelectric materials, various strategies have been proposed which could greatly promote piezoelectric response by orders of magnitude [Figure 1], enabling practical therapeutic or diagnostic functions for biomedicine.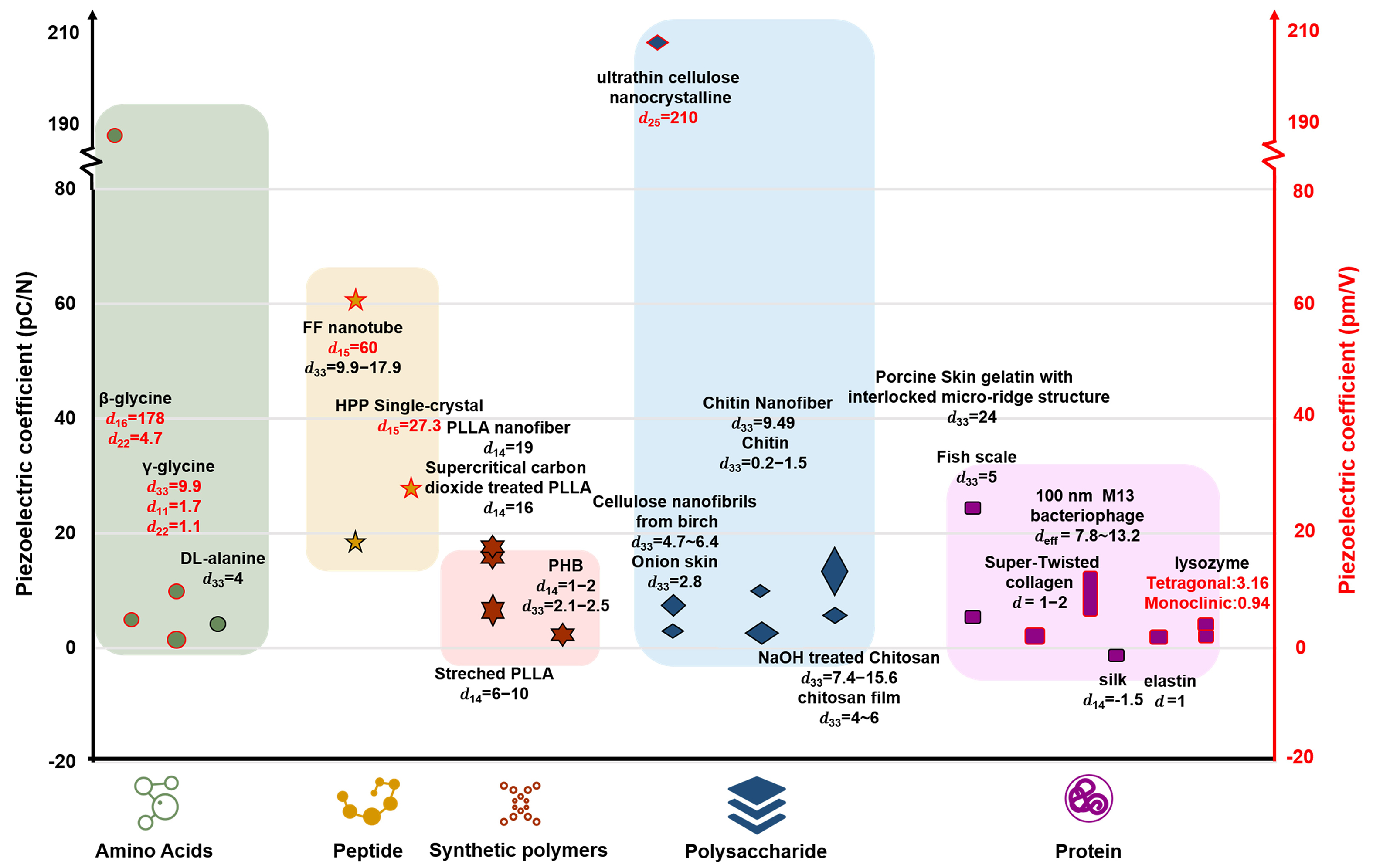 Figure 1. Piezoelectric constants of organic biodegradable piezoelectric materials. Symbols with a black border and reported values in black indicate piezoelectric coefficient in pC/N, and symbols with a red border and reported values in red indicate piezoelectric coefficient in pm/V.
In this paper, we will first review the properties of representative organic biodegradable piezoelectric materials, followed by a discussion of fabrication strategies to achieve enhanced piezoelectricity. Recently demonstrated applications associated with organic biodegradable piezoelectric materials will be summarized, and challenges and future perspectives will be given at the end.
BIODEGRADABLE ORGANIC PIEZOELECTRIC MATERIALS
The piezoelectricity of small biomolecules such as amino acids or dipeptides originates from non-centrosymmetry. The hierarchical structure, such as folding and hydrogen bond (HB) network of large molecules, also plays a critical role in piezoelectric activity. The piezoelectric constants of representative biodegradable organic piezoelectric materials are summarized in Figure 1. Depending on the measurement, piezoelectric coefficients are reported in pC/N (based on the positive piezoelectric effect) or pm/V (based on the inverse piezoelectric effect). The associated piezoelectric properties will be discussed in the following sessions in terms of piezoelectric small molecules, piezoelectric materials with higher-order structure and piezoelectrets.
FABRICATION STRATEGIES FOR ENHANCED PIEZOELECTRICITY
Directional stretching, electrospinning, electrical poling and HB guided self-assembly are representative strategies that promote crystallinity and dipole alignment of biodegradable piezoelectric materials and achieve enhanced piezoelectric activity. Directional stretching induces alignment of dipoles in the microcrystalline and amorphous regions and promotes piezoelectricity [Figure 5A]. For example, PLLA films processed with a stretching ratio of 4-5 greatly enhanced the crystallinity and boosted piezoelectric constant[67]. Electrospinning is another common process to enhance the properties of piezoelectric polymers [Figure 5B]. Studies have demonstrated that the electric field in the process of electrospinning can promote the orientation of a large number of dipoles toward the fiber direction or vertical direction[69,70], which enhanced piezoelectric properties[72]. Different mechanical properties and fiber orientation can be obtained by adjusting the processing parameters such as solution properties, electrical field strength and rotating speed of the receiving drum. For instance, as drum speeds increased from 1000 to 4000 rpm, the piezoelectric constant (d14) value of the collected nanofibers increased from 9 pC/N to 19 pC/N, while the nanofibers collected at 300 rpm drum speed show almost no piezoelectric properties[72]. Electrical poling during the growth of piezoelectric crystals can also assist the alignment of dipoles along the direction, which is beneficial to promote piezoelectricity [Figure 5C]. For instance, applying positive or negative electric field to the growth of FF nanotubes significantly improved the piezoelectric constants from 9.3 pm/V (no electric field) to 17.9 pm/V (negative electric field) or 11.7 pm/V (negative electric field)[37]. Moreover, intermolecular force (e.g., HB) plays an important role in promoting the orientation of dipole moments during the course of piezoelectric crystal growth, as shown in Figure 5D. Yang et al. utilized the HB at the PVA and γ-glycine interface to promote the self-assembling of glycine and accomplished a wafer-scale composite film with high piezoelectric response, flexibility and biodegradability[26]. The maximum d33 piezoelectric constant of the composite film was 5.7 pC/N, which was comparable to that of commercial PVDF piezoelectric films.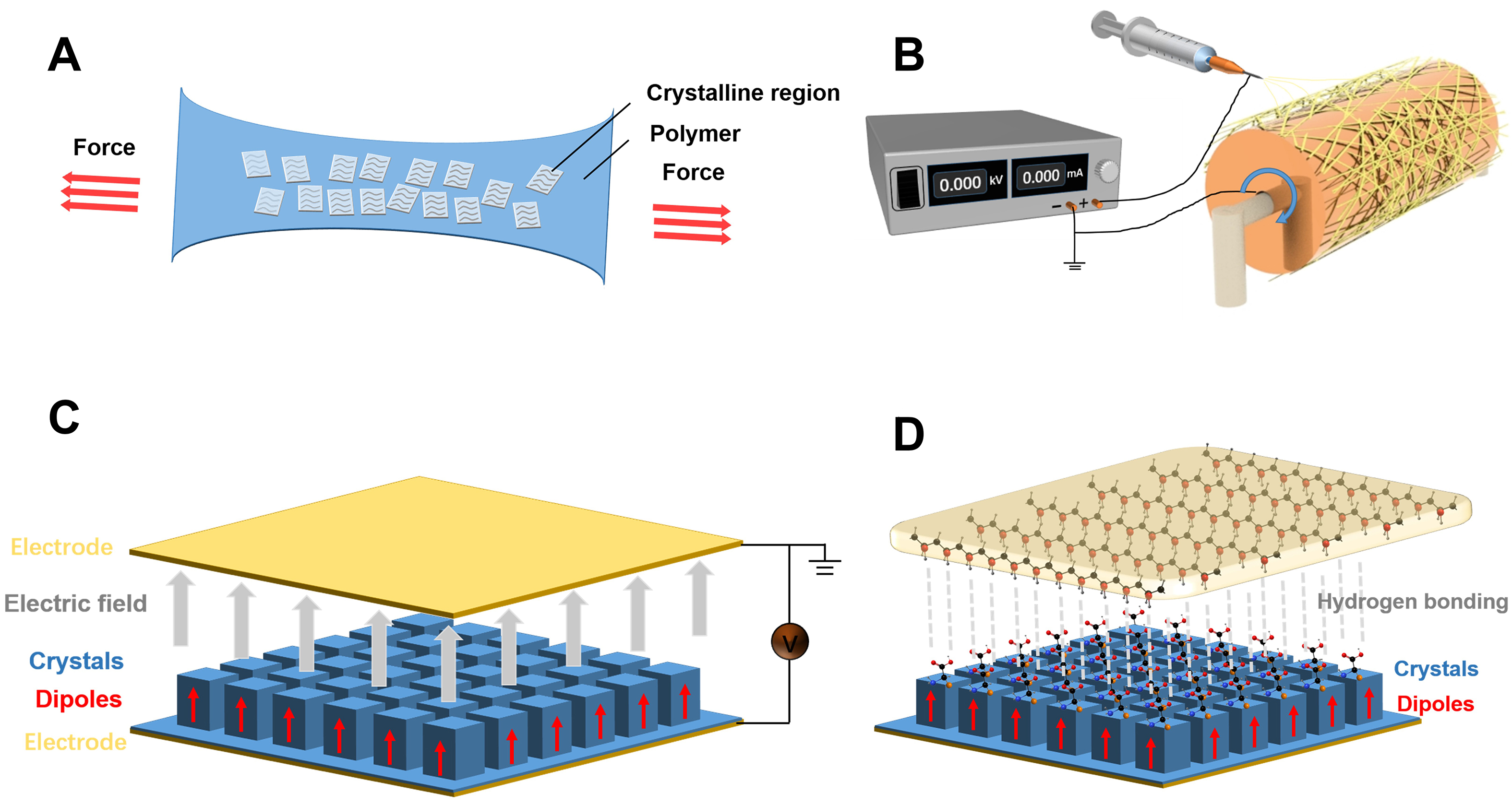 Figure 5. Strategies to enhance the piezoelectric properties of biodegradable materials. (A) Dipole alignment under tensile stress. (B) Schematic illustration of electrospinning. (C) Schematic illustration of the enhanced alignment of dipoles in the piezoelectric crystals under external applied electric field. (D) Schematic illustration of the enhanced alignment of dipoles induced by HB.
APPLICATIONS OF BIODEGRADABLE PIEZOELECTRIC MATERIALS FOR BIOELECTRONICS
Piezoelectric materials enable the conversion of external mechanical stimuli into electrical energy and vice versa and are prevalently used in sensors and energy harvesting[102]. In addition, the charges generated on the surface of piezoelectric materials can potentially be utilized as electronic medicine to regulate the behavior of cells and tissues[103]. Biodegradable piezoelectric materials have the advantage of natural degradation after operational windows, and can potentially eliminate material retention and associated infection risks.
Energy harvesting
Biodegradable piezoelectric materials have been explored as nanogenerators to convert mechanical movements to electrical energy. Given piezoelectric properties comparable to PVDF, FF peptides have been fabricated into piezoelectric nanogenerators (PENGs) with reliable performance[104,105]. Jenkins et al. showed that FF peptide nanowires can generate higher voltages than ZnO, PZT and BTO nanowires under the same force[104]. A flexible FF peptide nanogenerator was achieved, with an open-circuit voltage of 0.6 V and a short-circuit current of 7 nA under cyclic displacement. Lee et al. developed a meniscus-driven self-assembly process for the fabrication of horizontally aligned FF PNTs with large unidirectional polarization, as shown in Figure 6A[105]. The obtained nanogenerator was capable of providing an output up to 2.8 V, 37.4 nA, and 8.2 nW [Figure 6B]. Tao et al. designed and fabricated a flexible and biodegradable PENGs with FF PNTs and PLA was used to transfer FF peptide nanotubes from silicon substrates [Figure 6C][34]. The d33 value of the composite film was 12.4 pm/V, and the voltage and current output under different applied forces are shown in Figure 6D. The PENGs produced a power density of 1.56 W/m3, which is higher than many reported PENGs based on biodegradable biomaterials. Zhao et al. reported a cantilever beam energy harvester based on double-layer heat-treated PLLA films, as shown in Figure 6E[106]. In this work, the PLLA films were subjected to thermal annealing (140 °C) for 5-24 h after tensile stretching (4-fold), and a high piezoelectric constant (d14) of approximately 9.57 pC/N was obtained. The cantilever device can produce an output voltage of up to 9.4 V and a power output of 14.45 μW, which can charge a lithium battery and power multiple light-emitting diodes (LEDs) [Figure 6F]. In general, most biodegradable piezoelectric materials have strong shear piezoelectricity but weak transverse and longitudinal piezoelectric properties, thus often requiring customized structure to convert normal stress to in-plane shear stress, resulting in lower energy output than conventional energy-harvesting devices such as non-degradable piezoelectric nanogenerators[107], triboelectric nanogenerators[108], which could limit potential applications as power sources.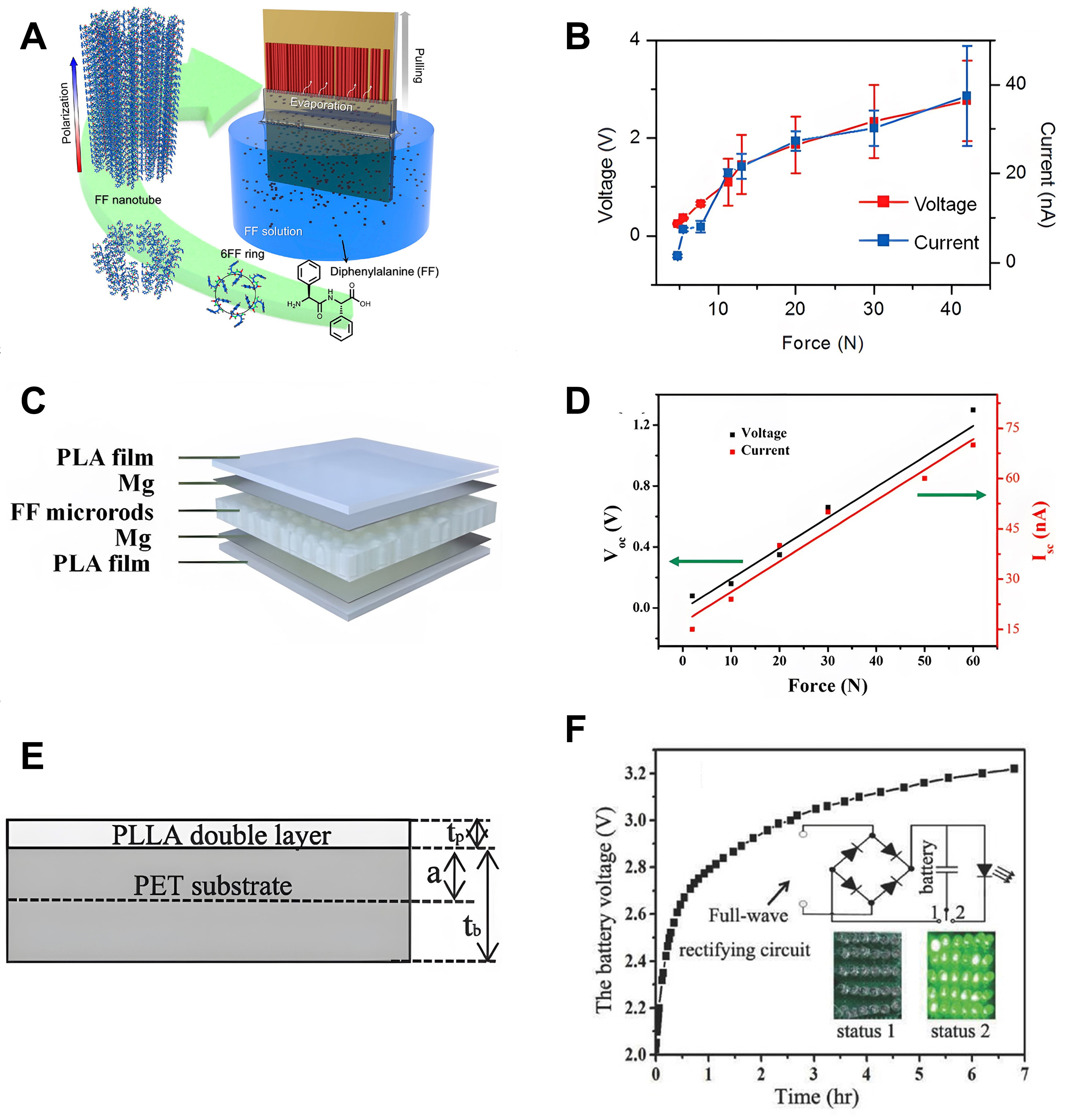 Figure 6. Energy harvesting. (A) Schematic illustration of the fabrication scheme to form large-scale aligned FF PNTs. (B) Output voltages and currents of FF PNT energy harvester as a function of applied force. (A and B) reproduced with permission[105]. Copyright 2018, American Chemical Society. (C) Schematic illustration of the structure of the biodegradable piezoelectric nanogenerators (PENGs) based on FF peptides enabled by PLA polymer-assisted transfer. (D) Voltage and current outputs of FF-based biodegradable PENGs under applied forces ranging from 2 to 60 N. c and d reproduced with permission[34]. Copyright 2021, Elsevier. (E) Schematic illustration of PLLA cantilever beam. (F) Voltagetime dependence of a lithium battery charged by the PLLA cantilever. The inset shows the charging circuit and the photograph of 30 LEDs lit by the battery. (E and F) reproduced with permission[106]. Copyright 2017, John Wiley and Sons.
Actuators, biosensors and transducers
The electromechanical conversion properties of piezoelectric materials allow the conversion of mechanical stimuli (pressure, bend, twist, etc.) into electrical signals, enabling real-time sensing (e.g., pressure and strain) in biological environments, which sets an important engineering basis for healthcare monitoring, smart devices and bionic prostheses[1,109]. Based on inverse piezoelectricity, piezoelectric materials also play a critical role as actuators and transducers when properly engineered, which is essential for applications such as controlled drug delivery and soft robotics[110].
Bioelectronics based on biodegradable piezoelectric materials have been developed for various actuators, sensors, and transducer systems[1,109,111]. For example, actuators made of piezoelectric PLLA have been realized as intelligent tweezers. Tajitsu et al. showed that PLLA fibers fabricated by dry jet spinning method produced significant vibration upon the application of AC voltage in the range of 50-300 V and the frequency between 0.1-150 Hz, and could serve as electrically controlled conduits and micro tweezers[112]. The exfoliation of assumed thrombosis sample in blood vessels by the PLLA fiber catheter was demonstrated. Sawano et al. developed a sc-CO2-treated PLLA, which had a larger piezoelectric constant, and achieved an electrical tweezer in a "Finger-joint-shaped" that was capable of performing complex movements such as grasping polystyrene beads [Figure 7A], which could achieve operations in constrained space such as small blood vessels[74].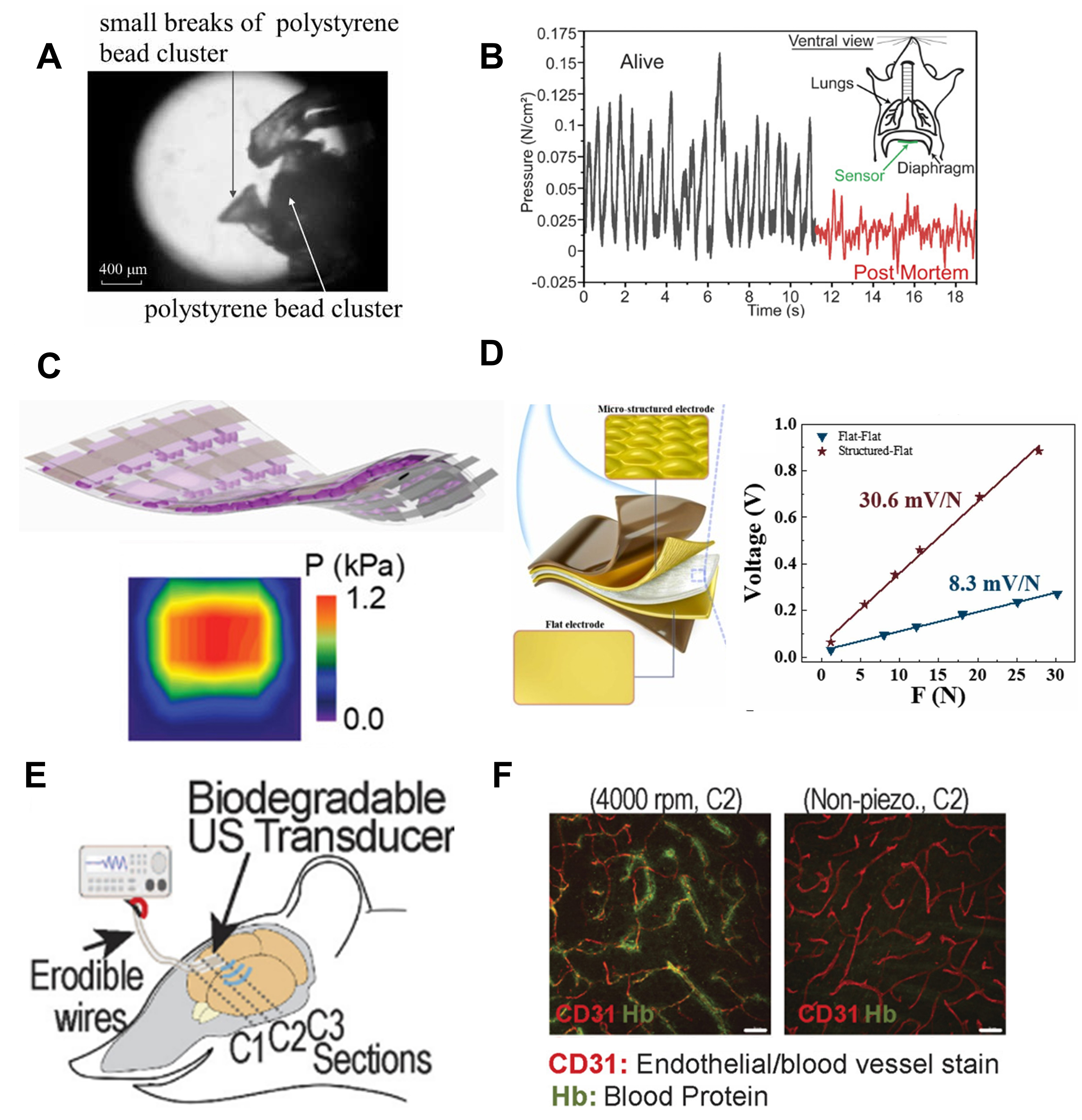 Figure 7. Actuators, biosensors and transducers based on biodegradable piezoelectric materials. (A) Optical Image of the grasping of a polystyrene bead cluster using PLLA actuator treated with supercritical-CO2. Reproduced with permission[74]. Copyright 2010, John Wiley and Sons. (B) Pressure signals detected by the PLLA sensor in the mouse abdominal diaphragm, black line and red line represent live mouse under anesthesia and being euthanized, respectively. Reproduced with permission[67]. Copyright 2018, National Academy of Science. (C) Structure of the biodegradable ferroelectric gelatin electronic skin (e-skin) and the image of the pressure distribution when placed on an irregular object. Reproduced with permission[49]. Copyright 2021, John Wiley and Sons. (D) Schematic illustration of the structure of silk fibroin based pressure sensor with micro-structured electrode and the comparison of voltage response symbols and linear fits between silk sensor with micro-structured electrode and flat electrode. Reproduced with permission[113]. Copyright 2022, Elsevier. (E) Schematic illustration of the in vivo experiment of PLLA nanofiber transducer to overcome the blood-brain barrier. (F) The autofluorescent signal of blood protein (green stain) at the coronal section (C2) from the brains of mice that received ultrasound (US) from the piezoelectric PLLA transducer (left, 4000 rpm) and the non-piezoelectric PLLA transducer (right). (E and F) reproduced with permission[72]. Copyright 2020, National Academy of Science.
Biodegradable piezoelectric materials with desirable flexibility that can produce large deformation under small forces are excellent candidates for building biodegradable sensors. Curry et al. proposed a biodegradable pressure sensor based on mechanically stretched PLLA film and demonstrated in vivo pressure monitoring in the abdominal diaphragm of mice, as shown in Figure 7B[67]. The sensor can accurately measure a wide pressure range (0-18 kPa) associated with physiological pressure, which could enable self-monitoring of vital signs such as intracranial pressure, intraocular pressure, intraarticular, etc. Hosseini et al. fabricated a flexible and biodegradable pressure sensor based on a composite film of β-glycine crystals and chitosan matrix with a sensitivity of 2.82 ± 0.2 mV·kPa-1[25]. The proposed device could be applied for wearable diagnostics and electrical stimulation for wound healing. Ghosh et al. fabricated a ferroelectric pigskin gelatin electronic skin (e-skin) [Figure 7C] with a microdome interlocked structure and achieved very high sensitivity (~41 mV·Pa-1) at low pressures with a detection limit near 0.005 Pa, even surpassing the non-biodegradable nanogenerators[49]. The device could sense the spatially resolved pressure and surface texture of an unknown object and be potentially deployed for pressure mapping and texture perception that are critical for healthcare monitoring. Liu et al. also reported a pressure sensor based on electrospun silk fibroin, as shown in Figure 7D[113]. The stress transferred from the electrode to the piezoelectric layer can be enhanced by surface-engineered electrodes fabricated by transfer printing using a metal mesh as the template, and the overall sensitivity of the device reached 30.6 mV/N, together with the advantages of fast response (3.4 ms), long cycle life (3000 cycles) and good linearity, which could be deployed for real-time detection such as oral cavity monitoring.
Transducers represent another category of devices for which biodegradable piezoelectric materials can be used. Kim et al. extracted β-chitin from squid and obtained a piezoelectric film with a piezoelectric constant of about 3.986 pm/V by centrifugal casting and hot pressing (120 °C)[114]. The flexible piezoelectric transducer worked well with paper-type speakers and microphones, and the synchronization rate with the original sound source was about 70%, providing a new route toward eco-friendly piezoelectric devices. Curry et al. proposed a highly oriented PLLA nanofiber film through electrospinning, which has been demonstrated for monitoring important physiological pressure in vivo and generating ultrasound to disrupt the blood-brain barrier (BBB), as shown in Figure 7E[72]. The biodegradable ultrasonic transducer can generate a sound pressure up to 0.3 MPa at a frequency of 1 MHz. The closer the coronary tissue of the mouse brain was to the implanted transducer, the more autofluorescent signals of blood protein (green stain, indicating leakage due to disrupted BBB) were detected [Figure 7F], whereas the blood protein was completely absent in the cases with non-piezoelectric films implanted, suggesting that the sound pressure generated by the biodegradable piezoelectric transducer can induce the opening of BBB. Moreover, piezoelectrets with large longitudinal piezoelectric constants serve as an alternative option to achieve biodegradable transducers. Dali et al. successfully fabricated a biodegradable ultrasonic transducer based on a PLA piezoelectret[115]. The transducer exhibited a large bandwidth of approximately 45 kHz and fractional bandwidth of 70%, resulting in sound pressure of 98 dB to 106 dB for driving voltages from 30 to 70 Vrms.
Therapeutics
Bioelectricity is essential in many physiological processes[116] and studies have explored electrical stimulation provided by biodegradable piezoelectric materials to assist the treatment of a variety of diseases, including bone fractures, neurite growth, wound healing, etc.[117]. When a piezoelectric material is subjected to mechanical deformation, its internal dipoles are reoriented and piezoelectric charges are generated on the surface. The charges and associated electric field may trigger complex cell signaling pathways, such as opening calcium channels in cell membranes, resulting in an increase in the intracellular Ca2+ concentration to promote cell proliferation and differentiation[118]. In the case of cartilage and bone formation, the upregulation of the Ca2+ concentration can activate calmodulin, calcineurin and calcineurin dephosphorylates nuclear factor, which further translocate into the nucleus to elevate the expression of signaling proteins such as bone morphogenic proteins (BMPs) and growth factors such as TGF-β [Figure 8A][118]. Given similar piezoelectric activity as bone tissues[119], PLLA[120-122], PHB[123-125], collagen[126,127] and chitosan[128] based piezoelectric scaffolds have been developed as effective materials to promote the proliferation of bone cells or the repair of bone defects. Recently, Das et al. demonstrated the repair of the broken skulls of mice combining piezoelectric PLLA nanofiber scaffolds with ultrasound (US) treatments, as shown in Figure 8B[129]. In vivo experiment showed that the mice that received piezoelectric PLLA nanofiber films and US had much more new bone formation, and a greater amount of alkaline phosphatase (ALP) positive cells and green collagen 3.6 fluorescent signals (both represent higher osteogenic differentiation activity) than the ones from other groups with either no ultrasound or non-piezoelectric PLLA nanofibers [Figure 8C]. Liu et al. reported intriguing cartilage regeneration by the implantation of multi-layered PLLA nanofibers and collagen composites into the joints of rabbits[130]. The mechanical stimulation introduced by physical exercise can fully activate the piezoelectric scaffold, leading to complete healing of osteochondral defects in rabbits with abundant chondrocytes and type II collagen formation after 1-2 months.
Figure 8. Therapeutic vehicles based on biodegradable piezoelectric materials. (A) Schematic illustration of surface charges generated by piezoelectric materials upon mechanical strain to trigger the signaling pathways of attached cells. Reproduced with permission[118]. Copyright 2020, John Wiley and sons. (B) Schematic illustration of the implantation of piezoelectric PLLA nanofiber covering the defects on the calvaria bone of mice. (C) Piezoelectric PLLA nanofiber with US effectively promote bone formation (yellow arrow) compared with the other groups. (B and C) reproduced with permission[129]. Copyright 2020, Elsevier. (D) Schematic illustration of electric field induced upregulation of regeneration-related genes in the neuronal cell body through calcium dependent mechanism. Reproduced with permission[134]. Copyright 2020, Elsevier. (E) Schematic illustration of three phases revealing the effects of electric fields on wound healing. Reproduced with permission[155]. Copyright 2016, John Wiley and sons. (F) In vivo output voltage curves of chitosan films (CM) and polydopamine coated chitosan films (CM@DA) immobilized on the back of mice. (G) Representative images of wounds on days 0, 4, 7, 10, and 14 after the treatment with CM and CM@DA films, respectively. (D and E) reproduced with permission[157]. Copyright 2020, Elsevier.
In the case of peripheral nerve regeneration, studies have shown that the piezoelectric charges generated by piezoelectric materials could open the calcium channels of cell membranes and accelerate the influx of calcium ions from the extracellular fluid[131-133]. Associated brain-derived neurotrophic factor (BDNF) and tropomyosin kinase B (TrkB) in neuronal cell body could be consequently simulated and promote the expression of regeneration-related genes by upregulating cyclic adenosine monophosphate (cAMP) pathways, as shown in Figure 8D[134]. The induced electrical potential difference has also been shown to boost the proliferation of Schwann cells, the production of nerve growth factor (NGF) and remyelination on injured axons, which is beneficial in assisting nerve regeneration[135]. Composite materials consisting of biodegradable piezoelectric matrix and inorganic piezoelectric ceramic filler[136,137] capable of partial degradation have been proposed for nerve regeneration. Some fully biodegradable scaffolds developed based on the piezoelectric effect of biodegradable piezoelectric materials have also been investigated for neural regeneration. Ramakrishna et al. realized PLLA nanofiber scaffolds by phase separation and electrospinning that can promote the differentiation and growth of neural stem-like cells[138,139]. Chen et al. demonstrated the feasibility of poly(3-hydroxybutyrate-co-3-hydroxyvalerate) (PHBV) microspheres as a scaffold to support neuronal cell growth and axon-dendritic polarization[140]. Other bio-piezoelectric materials such as cellulose[141], chitin[142], chitosan[143,144], and collagen[145] have also been reported to be able to support cell adhesion and growth. Some of these materials have been made into nerve conduits for peripheral nerve regneration[146-150]. Jiang et al. constructed a novel chitosan-based nerve graft comprising microporous chitin-based conduit and internal carboxymethyl chitosan fiber and applied it to bridge sciatic nerve across a 10-mm defect in Sprague Dawley (SD) rats[150]. The artificial composite nerve graft could effectively promote the restoration of damaged neurons with similar efficacy compared to the autograft. Niu et al. fabricated a biomimetic nerve scaffold with a structure mimicking the native epineurium layer using PLLA nanofibers doped with gelatin[149]. In the sciatic nerve defect model of SD rats, the scaffold showed the effect of promoting the myelination of Schwann cells and the remolding of epineurium in the injured area, which could effectively rehabilitate the motor and sensory functions of the injured nerve and prevent the atrophy of the target muscle tissue. However, mechanical agitations on piezoelectric materials in most experiments relied on transient and random motions that were usually weak. The use of external mechanical sources, such as ultrasonic (US) generators, to transmit high-frequency mechanical waves with high spatial accuracy to target locations in vivo can provide more controllable and sustained mechanical stress to induce the conversion of mechanical stimuli into electrical charges of piezoelectric materials[151]. US stimulation can greatly enhance the generation of surface charge and associated electric field of piezoelectric materials enabling the interaction with surrounding cells and tissues[8,129,152,153], which could stimulate intracellular calcium activity, upregulate pertinent effector proteins, and promote tissue regeneration. It would be interesting to investigate the therapeutic efficacy of combining ultrasound and biodegradable piezoelectric materials. In addition, non-degradable components were often involved to achieve high piezoelectricity, and thus the development of piezoelectric nerve scaffolds ensuring complete biodegradation also needs further studies[154].
Moreover, biodegradable piezoelectric materials can also be applied to facilitate wound healing. Cutaneous wound healing mainly depends on transepithelial potentials, which could be modulated by the charges generated by piezoelectric materials[118]. Previous investigations revealed that electrical fields promoted wound healing through three stages [Figure 8E]. Firstly, in the inflammatory phase, electric fields enhanced blood flow and tissue oxygen to inhibit bacterial growth and reduce wound edema. Later in the proliferative phase, wound contraction, the proliferation of keratinocytes and fibroblasts, and the deposition of angiogenesis and collagen were accelerated. Collagen maturation and remodeling were subsequently promoted by electric fields in the remodeling phase[155]. Skin scaffolds or dermal patches fabricated by biodegradable piezoelectric materials have often resulted in accelerated wound healing. Park et al. showed that silk fibroin scaffolds facilitated the proliferative and remodeling phase of the wound healing process, through the canonical nuclear factor kappa enhancer binding protein (NF-κB) signaling pathway via the regulation of the expression of cyclin D1, vimentin, fibronectin, and vascular endothelial growth factor (VEGF)[156]. Based on polydopamine-coated chitosan films (CM@DA), Chen et al. reported a piezoelectric and photo-thermal film with a stable output voltage as mice were exercising [Figure 8F], and demonstrated desirable efficacy in promoting wound healing of mouse skin [Figure 8G][157]. Compared to pure chitosan films, CM@DA produced greater and more stable piezoelectric voltage following the movement of the rats. Combining CM@DA with near-infrared (NIR) light, the generated electric voltages and heat directly stimulated the expressions of heat shock protein 90 (Hsp90) and hypoxia-inducible factor 1α (HIF-1α). The elevated HIF-1α induced more Hsp90 secretion for cell migration, and the increase of Hsp90 effectively protected HIF-1α from degradation. The high expression level of HIF-1α can upregulate the expression of VEGF, which enhanced the formation of new blood vessels to assist the formation of granulation tissue and collagen deposition.
CONCLUSION
Given excellent biocompatibility, desirable biodegradability and tunable piezoelectric properties, biodegradable piezoelectric materials are attracting great attention for potential use in bioelectronics. We summarize the piezoelectric properties of representative organic biodegradable piezoelectric materials including small molecules such as amino acids and dipeptides and organic molecules with high order structure such as proteins, synthetic polymers and polysaccharides. Strategies to enhance piezoelectric activity are reviewed and applications for energy harvesting, actuators, sensors, transducers, and therapeutic devices are discussed.
To achieve commercial translation, a deeper understanding of the mechanism and characteristics of piezoelectricity of different biodegradable piezoelectric materials and appropriate engineering designs to adapt to specific medical scenarios are critical. Although with great progress, further advances are essential to overcome the existing challenges of organic biodegradable piezoelectric materials. Firstly, the longitudinal piezoelectric constants of these materials are generally much lower than the shear piezoelectric constants, which requires more complex structural design or processing schemes to compensate for the shortcomings. In addition, it remains a difficult task to simultaneously satisfy high piezoelectricity and desirable flexibility to adapt to the soft nature of biological tissues, as crystallinity contributes greatly to promoting piezoelectric activity that also comes along with mechanical stiffness. Moreover, rapid degradation of organic materials constrains the operational window, and appropriate biodegradable packaging materials are necessary to prolong the lifetime for extended application as implantable platforms. Materials strategies and fabrication schemes are essential to address these challenges, including the exploration of innovative biodegradable piezoelectric materials, new manufacturing methods to enhance the piezoelectric properties of existing materials, and the development of composite materials to balance piezoelectricity and flexibility. The incorporation of materials computation tools could also facilitate the design of novel biodegradable piezoelectric materials and optimize relevant characteristics. In addition, the investigation of piezoelectrets offers an alternative pathway to realized biodegradable piezoelectric devices with fewer constraints in materials. Piezoelectrets can effectively act as piezoelectric materials by injecting charges or dipoles into a flexible material, which can greatly extend material options. Strategies to maintain the metastable injected charges remain the key to achieving practical utilization of piezoelectrets. Moreover, the exploitation of flexoelectric effects represents another interesting route to accomplish biodegradable electroactive devices beyond piezoelectric materials. In non-piezoelectric materials, the applied strain gradients could disrupt the previously highly symmetric charge density and result in polarization[158]. Although the flexoelectric effect is weak in most cases, flexible organic dielectric materials may have strong electrical responses under large strain gradients due to their low elastic modulus[159]. Some works have shown that flexoelectric effect could be used in energy harvesting[43,160-162], sensors and actuators[163].
In all, further developments will enable the optimization of biodegradable organic piezoelectric materials, which will open new avenues to achieve innovative bioelectronics such as energy devices, sensors, transducers and electronic medicine that can be fully resorbable, eliminating potential infection risks, and could play critical roles in healthcare.
DECLARATIONS
Authors' contributions
Did the literature review, outlined the manuscript structure, and wrote the manuscript draft: Dai F, Geng Q, Hua T, Yin L
Participated in the discussion of the review content: Sheng X, Yin L
Initiated the reviewing idea and were involved in the discussion and revision of the manuscript: Dai F, Yin L
All authors have read the manuscript and approved the final version.
Availability of data and materials
Not applicable.
Financial support and sponsorship
The authors acknowledge the support of the National Natural Science Foundation of China (52171239 and T2122010 to Yin L), Beijing Municipal Natural Science Foundation (Z220015 to Yin L), and Tsinghua University-Peking Union Medical College Hospital Initiative Scientific Research Program (20191080592).
Conflicts of interest
All authors declared that there are no conflicts of interest.
Ethical approval and consent to participate
Not applicable.
Consent for publication
Not applicable.
Copyright
© The Author(s) 2023.