Flexible electrical insulation material
PI possesses virtually nonexistent free electrons and ions as a kind of polymer material. This makes it an ideal Class H electrical insulation material due to its remarkable performance. PI is also lightweight and pliable, enabling it to be bent to a certain degree with minimal impact on its thermal characteristics; thus, it is ideal for various non-planar insulation projects. Due to its special intermolecular force and structural flatness, the PI has exceptional durability in extreme temperatures, chemical stability, and radiation resistance; this enables it to be used in harsh environments such as high temperatures and radiation[49]. By taking advantage of its superior qualities, flexible PI insulation materials are often used to insulate wires and cables [Figure 3A], magnetic iron wires, transformers, engines, etc. Additionally, PI can be employed as the insulation layer of human implantable flexible microelectronic gadgets for its biocompatibility. As an illustration, Schander et al. incorporated a flexible polyimide film in the insulation package of implanted nerve electrodes[50] and, additionally, a purple flexible ribbon cable for the floating nerve probe [Figure 3B][12]. The PI film is a remarkable insulator, but its synthesis and application would be fraught with difficulties, including processing technology problems, the most common insulation aging problem, and heat accumulation problems.

Figure 3. (A) Polyimide wrapped wire; (B) the design of the floating nerve probe[12].
To take full advantage of the versatility of PI and meet the thin and lightweight demands of microelectronic devices for insulation materials, vapor deposition and LB film technology have been investigated and used in the production of PI films. For example, Iwamoto et al. gained an LB film by depositing PI to a metal electrode, forming an ultra-thin insulating PI film that drastically reduces the volume of insulating materials in applied devices to a large extent[51]. In addition, Lee et al. manufactured PI films with vapor deposition polymerization (VDPM) for insulation in semiconductor components[52].
PI insulation materials exhibit high-temperature resistance, excellent mechanical strength, chemical stability, radiation resistance, and other properties that effectively combat thermal aging and other environmental aging issues. However, the problem of electrical aging, such as partial discharge and electrical breakdown, is unavoidable and can drastically reduce its lifespan. Incorporating inorganic nano reinforcement into PI is a popular and straightforward technique to address insulation deterioration. Zhou et al. revealed that a corona-resistant PI film supplemented with nanoparticles could block partial discharge, slowing down the decline of the PI film's insulation[53]. Additionally, Ogbonna et al. presented a thorough analysis of the changes in mechanical, thermal and electrical properties of polyimide insulation materials due to the incorporation of various inorganic nanomaterials[54]. Through the addition of inorganic nanofillers such as silicon dioxide (SiO2), titanium dioxide (TiO2), aluminum oxide (Al2O3), carbon nanotubes (CNTs), boron nitride (BN), and graphene oxide (GO) to PI materials, the electrical breakdown strength, corona resistance and thermal stability of the PI can be improved, addressing the aging problems that arise in insulation applications. Numerous scientific studies have indicated that the inclusion quantity, morphology (e.g., nanoparticle, fiber, spherical, tubular, etc.), size, and features of inorganic fillers will affect the performance of PI composites. Firstly, the appropriate doping volume fraction for inorganic fillers must be considered; inadequate doping volume will not lead to the desired performance of PI, while excessive doping volume may even reduce the overall mechanical performance. For example, Feng et al. synthesized a series of TiO2/PI composites with varying TiO2 doping levels[55]. They discovered that higher doping caused a more significant dielectric loss, thus decreasing insulation performance. Secondly, the morphology of the inorganic filler plays a substantial role in the performance. For example, according to Li et al., when the TiO2 content is the same, doping nanowires with TiO2 will produce better electrical performance than doping nanoparticles with TiO2[56]. Thirdly, suppose the nanosize is too large. In that case, it will hurt performance, as the increased size leads to an uneven filler distribution, decreasing the bonding strength between interfaces, thus reducing mechanical and electrical properties such as corona resistance and electric breakdown resistance. Ultimately, the characteristics of inorganic fillers also affect the effectiveness of PI composites. For example, carbon nanotubes have a conductive property, which could detrimentally impact the insulation performance when directly doped. Consequently, Yan et al. incorporated multi-walled carbon nanotubes coated with inorganic boron nitride nanolayers with insulation properties (BN-c-MWCNTs) into flexible PI insulating films[57]. The heat dissipation issue of the insulating film in microelectronic components and motors was effectively addressed by the preparation of BN-c-MWCNTs/PI thin films with improved thermal conductivity and electrical insulation characteristics.
PI, a type of insulation material with excellent comprehensive performance, is widely employed in the power industry, transformers, and other industrial applications. However, the advancement of modern electronic products into multi-function, miniaturization and high-frequency realms has been inhibited by the low thermal conductivity of PI insulation materials, resulting in heat accumulation and posing a serious risk to efficiency, reliability, and even the lifetime of components. Therefore, enhancing the thermal conductivity of PI insulation materials is of great importance. To optimize the heat dissipation of PI, the most straightforward and convenient way is to combine it with fillers with high thermal conductivity. The PI material is utilized as a flexible insulation material. Thus the fillers should adhere to the following requirements: (1) Equipped with high thermal conductivity and insulation; (2) Do not affect the flexibility of PI film; and (3) Establish a robust interface between PI material and fillers. Taking into consideration the above specifications, two varieties of fillers are available. One is the fillers that possess high thermal conductivity, insulation, and superior mechanical characteristics. For instance, imidization of the PI facilitates the in-plane orientation of carbon nitride nanosheets (CNNS) in the PI composite film, thereby forming an effective thermal conductivity path. After utilizing CNNS as the filler, Wang et al. achieved a composite film [Figure 4A] with impressive electrical insulation performance (3.38 × 1014 Ω·cm), a low coefficient of thermal expansion (32.5 ppm/K) and remarkable flexibility[58]. Another one is the mixed fillers. By utilizing graphene oxide (GO) nanosheets capable of forming thermal conductivity networks and hexagonal boron nitride (BN) sheets with insulation as mixed fillers, He et al. successfully prepared flexible PI composite films[59]. They possess high thermal conductivity and exceptional thermal and electrical insulation properties [Figure 4B].
PI has been adopted as a popular flexible insulation material due to its advantageous electrical insulation, pliability, high-temperature resistance, chemical and radiation resistance, biocompatibility and other features. Flexible PI has been employed as insulation material for traditional electrical appliances such as motors, wires and magnet wires, and has also been developed to serve as insulation material for more advanced electronic devices, like flexible wearable electronic devices, intelligent robots, and biological implantable devices[60]. However, there still exist three challenges, including processing technology problems, the most common insulation aging problem, and heat accumulation problems. Vapor deposition, Langmuir-Blodgett technology, and other advanced methods have been developed to meet the thin and lightweight requirements of insulation materials. Introducing inorganic nano reinforcement, like silicon dioxide (SiO2), titanium dioxide (TiO2), aluminum oxide (Al2O3), etc., has become a popular and straightforward technique to address insulation deterioration. Notably, the inclusion quantity, morphology, size, and features of inorganic fillers all affect the performance of PI composites. Incorporating fillers with high thermal conductivity, a most straightforward and convenient way, is able to optimize the heat dissipation of PI. In the coming days, PI insulation materials will remain bendable, thin, effective at heat dispersion, and resistant to challenging conditions, as well as eco-friendly and recyclable, so as to meet the requirements of flexible insulation applications.
Flexible heat insulation and flame retardant material
The main PI chain contains imide rings (-CO-N-CO-) and aromatic heterocyclic structure, resulting in powerful intermolecular interaction forces and bond energy of PI. A high temperature is required to decompose them so that they exhibit higher heat and flame resistance than ordinary polymers[61]. Following the implementation of a porous structure, PI is typically seen as foam, aerogel, aerogel film, and fibers that contain a porous interior, all of which have a reduced thermal conductivity. As early as 1980, Gagliani et al. conducted experiments that verified that PI foam is flame resistant, does not emit smoke or toxic fumes at 204 °C and can remain supple and flexible in temperatures ranging from -184 °C to 315 °C[45]. PI foam is an economical and dependable material with superior thermal stability, low smoke emission, and low toxicity. It is ideal for producing thermal insulation and flame retardant components in aviation and aerospace machinery. The elastic PI foam created through microwave heating can sustain fire for 14 min and 45 s without breaking apart, with only a slight amount of charring and shrinkage in the area exposed to the flame, making it suitable for the production of aircraft seats. PI has various applications, such as the creation of firewalls, insulation for low-temperature pipes, buffering pads for precision electronics, and protective barriers for temperature-sensitive systems. On the one hand, by providing thermal insulation and flame retardancy, PI can keep accidental fires from spreading on vehicles and give more time for emergency personnel to respond; On the other hand, PI is characterized by its low density, robust mechanical features and formability, which can be used to make multiple lightweight components, thereby significantly lightening the load of transportation equipment. Due to the excellent characteristics of PI such as high performance, flexible thermal insulation and flame retardant material, extensive research has been conducted into its synthesis, processing modification, and practical application transformation. This has enabled its extensive use in aviation, transportation, weapons and equipment, architecture, microelectronics, fire protection, clothing, and other fields [Figure 5].
The morphology and performance of the flexible heat insulation and flame retardant PI[66] depend upon PI's material and process parameters in the synthesis process. The material parameters comprise a range of elements such as monomer type, cross-linking agent type, monomer mole fraction, number of main chain repeat units, and polymer concentration. To begin with, the type of monomer (diamine and dianhydride) is a critical aspect in the synthesis of PI, and the functional group, stiffness, and intrinsic qualities of PI will influence the chain's interaction, shrinking, form, and performance[67]. Ni et al. obtained the precursor powder of polyester ammonium salt (PEAS) by the polymerization reaction with three different diamine monomers (4,4′-diaminodiphenyl ether (ODA), 4,4′-diaminodiphenylmethane (MDA), 4,4′-diamino-2,2′-dimethylbiphenyl (DMBZ)) and 3,3′,4,4′-benzophenone tetracarboxylic acid dianhydride (BTDA)[68]. Subsequently, a lightweight, pliable PI foam (PIFs) insulation material with exceptional mechanical flexibility, thermal stability, and thermal insulation was manufactured with microwave-assisted foaming and post-curing techniques. The rigid level of the three synthesized PIF molecular chains follows PIFBTDA-ODA < PIFBTDA-MDA < PIFBTDA-DMBZ. The greater the stiffness of PIF's molecular chain, the thicker the bubble film, resulting in a reduced pore diameter of the foam and consequent changes in the material's mechanical, thermal, and flexible properties.
Secondly, various types of crosslinking agents, such as 1,3,5 tri amino phenoxy benzene (TAB), 1,3,5-benzenetricarbonyl trichloride (BTC), polyhedral oligomeric silsesquioxane (POSS), and octa (aminophenyl) silsesquioxane (OAPS), can modify the crosslinking structure and performance of PI. However, not only do most crosslinking agents cost a lot, but they also lead to environmental pollution. Zhang et al. innovatively selected three different monomers, namely, 4,4′-diaminodiphenylsulfone (DDS) that is flexible, 2-(4-aminophenyl)-1H-benzimidazol-5-amine (APBIA) and 3,3′,4,4′-biphenyltetracarboxylic dianhydride (BPDA) to synthesize flexible thermoplastic PIF[69]. Figure 6 demonstrates that, through the utilization of intermolecular forces like hydrogen bonds, π-π superposition, and inter-ion interactions between sulfonyl groups, acyl groups and carbon-nitrogen heterocycles on the main chain, these monomers can form a network structure. Thus, the need for crosslinking agents for the preparation of PI was eliminated, and a more eco-friendly synthesis path for PI was established. In addition, when 30 mol% DDS is added, a rotatable C-S bond is introduced into the rigid structure so that its reticular structure can extend without destroying the layered arrangement, indicating that a flexible foam network structure is formed. This flexible PIF, created using this monomer formula, exhibits remarkable mechanical properties, thermal insulation performance, and thermoplasticity. Combined with carbon fiber-reinforced materials, it can provide heat insulation and shock absorption functions. Therefore, it can produce a lightweight heat shield, a gear reducer for aerospace equipment entering the atmosphere, and heat protection clothing.
Finally, to enhance certain characteristics of PI, mixed diamine monomer was utilized as raw material. By utilizing flexible 4,4′-oxydianiline (ODA), rigid 2,2′-dimethylbenzidine (DMBZ), and biphenyl-tetracarboxylic acid dianhydride (BPDA), Tafreshi et al. fabricated the PI aerogel under the help of crosslinking agent 1,3,5-benzenetricarbonyl tri-chloride (BTC)[61]. The addition of rigid DMBZ increases the hydrophobicity of the aerogels, in addition to enlarging the free volume of the synthesized structure and reducing the dielectric constant by hindering the molecular chains from tightly packing together. Substituting 50 mol% ODA with DMBZ allows for the preservation of the flexibility of PI aerogels and also provides better hydrophobicity and a lower dielectric constant. It is apparent that the monomer mole fraction parameter is essential for the production of mixed monomers.
The process parameters encompass the kind of drying, the kind of imidization (chemical or thermal), the temperature and pressure during the process, etc. The freeze-drying process plays a decisive role in the structure of PI. Ma et al. respectively used random freeze-casting (RF) and unidirectional freeze-casting (UF) methods to obtain flexible PI aerogels (PIA) with different microstructures[70]. The pore structure of U-PIA is continuous and parallel tubular, in contrast to the irregular and dense cellular pore structure of R-PIA, leading to distinctive thermal insulation properties [Figure 7]. Specifically, U-PIA has a higher thermal conductivity when aligned with the pipeline; however, when vertical, this conductivity is lessened, demonstrating a thermal insulation anisotropy. R-PIA shows an average level of thermal conductivity in both horizontal and vertical orientations. In contrast, the anisotropic PIA produced by unidirectional freezing possesses excellent thermal, mechanical, and thermal insulation properties, thus fulfilling the high temperature resistant rotor and hood of rotor aircraft, multi-shape bearings of motor vehicles, and other applications' requirements. The technique employed for coating aerogel film is a critical element in determining its thickness and smoothness. Tafreshi et al. used a doctor blade applicator to refine the fiber diameter in the aerogel film, resulting in a more even distribution and increased porosity around the fiber chain[61]. Furthermore, the space between the doctor blade and the carrier film, the solution's viscosity, and the pouring rate can be adjusted to create an aerogel film of adjustable thickness and evenness.
In addition to examining the effects of material and process parameters on PI performance, it is critical to investigate PI processing modifications. The most frequent alteration techniques involve incorporating a reinforcing phase into PI and altering the spatial dimension of PI. By utilizing different reinforcement materials, it is possible to modify certain properties to fulfill the application's needs. Yan et al. prepared a series of flexible PI composite foam materials with dihydrogen and isocyanate dispersed with vermiculite as raw materials[71]. The introduction of vermiculite decreases the pore size of PI foam, reducing the opening rate; thus, it exhibits superior heat insulation, flame retardant, and mechanical properties. Compared with the traditional PI foam used by Gagliani et al., it can be more suitable for aircraft, spacecraft, high-speed trains, ships, and other fields[45]. Zhang et al. fabricated biaxially anisotropic polyimide/bacterial cellulose (b-PI/BC) aerogels with high mechanical strength, low density, and excellent thermal insulation properties using the bidirectional freezing technology[27]. First of all, the combination of the hydrophilic group on BC and the carboxyl group on the PAA chain makes it possible for BC to be evenly dispersed in the aerogel, thus protecting the aerogel from shrinking and maintaining its structural integrity and high porosity. This reduces the thermal conductivity, resulting in superior thermal insulation compared to most polymers [Figure 8A]. Secondly, the composite aerogel prepared by bidirectional freezing technology has a well-arranged lamellar structure, which shows obvious anisotropic thermal insulation performance. The radial direction of the aerogel has excellent thermal insulation capabilities, whereas the axial direction has a slightly higher thermal conductivity coefficient, allowing heat dissipation to prevent localized heat accumulation. This composite aerogel can be employed for intelligent thermal insulation in buildings, aerospace, and instrumentation. To facilitate the use of the flexible thermal insulation PI material in humid and hot environments, Yang et al. prepared a super hydrophobic and compressible polyvinylidene fluoride/polyimide (PVDF/PI) nanofiber composite aerogel through the combination of electrospinning and freeze-drying[72]. An illustration in Figure 8B reveals the exact preparation procedure. For structural stability, a strong three-dimensional aerogel skeleton is formed by combining PVDF nanofibers as hydrophobic skeletons and PI nanofibers. Moreover, the aerogel exhibits incredible properties such as high porosity (98.6%), low density (22.0 mg·cm-3), low thermal conductivity (31.0 mW·m-1·K-1 at room temperature), incredible hydrophobicity (water contact angle of 152°), and incredible thermal insulation even in extreme humidity (100% RH) and high temperatures (300 °C). As a result, it can be widely used in building thermal insulation and outdoor activity thermal insulation, such as flexible sandwich thermal insulation materials for tents. Although thermal insulation PI in the form of foam and aerogel is somewhat flexible, it does not possess the necessary high flexibility and mechanical properties for thermal insulation materials used in applications such as space suits, fire suits, microelectronic thermal insulation packaging, etc. Therefore, the research on highly flexible PI thermal insulation material is of great significance. In this regard, Hou et al. made full use of the perfect chemical match and strong interfacial bonds between PI nanofibers and PI aerogel molecules to form PI nanofiber cross-linked PI aerogel films by utilizing electrostatic spinning, sol-gel, and supercritical drying techniques[11]. As shown in Figure 8C, the composite film exhibited flexibility (crimping and twisting) and recoverability after stress removal. Even after 1000 folding and unfolding tests, the PI composite film can still return to its original shape without creases and cracks, showing excellent reusability. To reduce the risk of collapse of reinforced concrete in buildings in fire and promote the practical application of thermal insulation and energy-saving building materials, Tian et al. introduced polymethylsilsesquioxane (PMSQ) oligomers on anisotropic PI nanofiber aerogel (PINA) matrix by in-situ synthesis[73]. Due to the hydrogen bond between PMSQ and PINA's chain, the PMSQ colloidal nanoparticles are uniformly distributed in PIAN. Then, a dual network structure of SiO2 and PINA was formed, leading to the fabrication of polyimide/silica (PI/SiO2) aerogels with exceptional mechanical properties (high flexibility and compressibility), flame retardancy and thermal insulation [Figure 8D]. The product, which can resist 1200 °C flame without disintegrating, is an excellent choice for building exterior wall insulation sandwich materials, promoting the development of energy-saving building materials and meeting the requirements of sustainable development. Table 4 summarizes some research in recent years on the introduction of fillers to synthesize PI composites for enhanced performance.
In contrast to multidimensional materials like foam and aerogel, fiber materials are more flexible and tolerant to fluctuations in pressure because of their open pores, thus changing the spatial dimension of PI is a systematic adjustment strategy, Doan et al. prepared crosslinked porous PI fiber insulator by centrifugal spinning technology[74]. In the process of centrifugal spinning, the spinning morphology and fiber diameter can be controlled by controlling the spinning parameters, such as the viscosity of the spinning solution (polymer concentration, solvent), rotation speed or the inner diameter of a spinneret. After a series of experiments, the fiber with the smooth structure and the smallest diameter was produced using the most effective spinning parameters of "combining PI with N, N-dimethyl formamide (DMF) and dichloromethane (DCM) at a 3:1 ratio to produce an 11wt% PI solution as the base material". Through the crosslinking of PI solution and p-phenylenediamine (PPD) crosslinking solvent in methanol, a crosslinked porous PI fiber insulator with low thermal conductivity (0.029 W/mK), high thermal stability (515 °C), high hydrophobicity (contact angle of 137.7°) and flexible deformation at high temperature was created, thus presenting a new way to manufacture aerospace flexible fiber insulation materials on a large scale.
It is possible to produce flexible thermal insulation and flame retardant PI materials with varied morphologies and properties by utilizing different synthesis strategies and modified processing technologies. Most PI materials consistently show high thermal stability, strong processability, excellent heat insulation, and flame retardancy. They tend to be lighter, more flexible, and multifunctional, which are widely used in aviation (e.g., light heat shields, reducers, spacesuits, etc.), transportation (e.g., foam seats, fireproof exterior wall sandwich materials, etc.), buildings (e.g., high-temperature pipe insulation, thermal insulation, and energy-saving building materials, etc.), microelectronic thermal insulation packaging (e.g., protective film for thermally sensitive components of computers and mobile phones, etc.), thermal protection (e.g., protective articles for industries operating under high temperatures, etc.). The following are some interesting examples of flexible thermal insulation and flame retardant PI applications in recent years. First of all, temperature-regulated textiles notably safeguard human well-being and promote work efficiency (like fire protection and metallurgy) under high temperature. The PI aerogel fiber obtained by Wang et al. through freeze-spinning technology has high mechanical strength and excellent flame retardancy[63]; at the same time, the textiles woven from this fiber have good flexibility and excellent thermal properties (including heat insulation, flame retardancy, and thermal stability) [Figure 9]. In addition, PI fabrics can be readily altered and infiltrated, giving rise to a wide range of functions. For example, after being treated with a silica nanoparticle/sol solution, it is capable of withstanding both acid and alkaline conditions; after being soaked with phase change materials, it has the function of temperature regulation and will become a focal point for research in the coming years. Secondly, the use of infrared stealth technology is critical to the advancement of the national defense industry and the creation of new military equipment. Shi et al. constructed a polyimide (PI)/phosphene (PR) mixed aerogel, which was then vacuum dipped in polyethylene glycol (PEG) to form a flexible and foldable composite film that is ideal for infrared stealth[75]. The integration of PI aerogel and PEG results in a synergistic effect that lowers the temperature of the thermal target, by using the thermal shielding of aerogel and the thermal buffering of PCM. The PR nanosheet not only bolsters the mechanical strength of the mixed aerogel by the nanoscale effect but also boosts the external heat transfer of the high-temperature target through the improved infrared light heat conversion. Figure 9 shows the PI/PR composite film's excellent lightweight flexibility and infrared stealth performance. Thirdly, incorporating smart aerogel with a responsive fire alarm system can increase fire safety standards. Jiang et al. prepared a flexible polyimide/MXene (PI@MXene) composite aerogel, which possesses sensitive temperature sensing and fire alarm capabilities [Figure 9][76]. Moreover, composite aerogels are of high flexibility and can be widely used in preparing non-planar flexible alarms. Obviously, PI@MXene fire alarm time is less than 5 s, which is much faster than the average commercial infrared and smoke alarm. Furthermore, the tests have proven that PI@MXene has a promising future in fire prevention and early warning. High temperatures will cause damage to thermal sensors in electronic devices, resulting in reduced operating efficiency, velocity, and dependability; it may even lead to potentially hazardous issues such as battery explosions. Moreover, if people are exposed to electronic devices for an extended period, the heat radiation will affect human cells, eventually causing chronic health problems. To solve these problems, it is necessary to use thermal insulation for electronic packaging. As electronic devices shrink in size and become more foldable, the drawbacks of traditional packaging materials, such as their size, rigidity, and longevity, render them inadequate for application. The PI aerogel film prepared by Tafreshi et al. combines the advantages of high flexibility, adjustable transparency, ultra-low density, super thermal insulation, excellent mechanical resistance, self-extinguishing characteristics, and extremely low dielectric constant, which can be practically applied to electronic packaging[61]. Within 120-450 s of the normal operation of the computer, the maximum temperature without membrane protection is 49 °C, while the maximum temperature of the Kapton membrane and aerogel membrane is 46 and 42 °C, respectively; when the PC is set to high load operation, the temperature under the protection of PI aerogel film is obviously lower than that under the other two conditions. Therefore, aerogel film can be used as an excellent electronic packaging material in flexible electronics, optoelectronics, new generation smart TV, mobile phones and smart devices and other emerging fields.
As a kind of heat insulation and flame retardant material, PI has been used in traditional firefighting fields in the form of foam and sponge in the last century and has been widely used in aerospace and transportation fields due to its lightweight and powerful processability. Later, as PI is endowed with the characteristics of being flexible and lightweight, its application has been expanded to advanced intelligent fields such as thermal insulation clothing, flexible electronic packaging, infrared stealth, fire alarm, etc. In the future, the research on thermal insulation and flame retardant PI will continue to be lightweight and flexible and achieve versatility by modifying or loading other materials, such as phase change materials, which will continue to expand potential applications.
Flexible sound absorbing and noise reducing material
The multi-bubble pore structure of PI foam and aerogel provides exceptional sound absorption, in addition to its noteworthy thermal stability, chemical resistance, flexibility, thermal insulation, and lightness, making it a top-notch sound insulation and noise reduction material with remarkable comprehensive performance. They have a wide range of applications, such as the sound barrier system of submarines, shock absorption and noise reduction of industrial machines, sound insulation and noise reduction walls of buildings and noise reduction devices of vehicles. The excellent sound absorption performance of polyimide benefits from its multi-bubble pore structure. PI foam and aerogel have two types of bubbles, open and closed, which play a certain role in blocking and consuming sound waves, mainly in the following aspects: (1) Part of the sound waves will be reflected by the material interface; (2) The sound wave entering the bubble through the pores will rub with the pore and cause sound attenuation; (3) Sound wave will be lost due to multiple reflections in bubbles (especially closed bubbles); and (4) The sound wave causes the gas in the bubble and the material skeleton to vibrate which will lead to the sound energy loss, according to the theory of molecular relaxation absorption and loss[13].
According to the researches of Liu et al., bubble structure (thickness, density, size, etc.) and operating environment (pressure, humidity, temperature, etc.) affect the sound absorption performance of PI foam[77]. Therefore, the sound absorption property of PI material can be adjusted by changing the structure of PI bubble pores. Ma et al. used 3,3′,4,4′-benzophenone tetracarboxylic dianhydride (BTDA), 3,4′-oxydianiline (3,4′-ODA), polyaryl polymethylene isocyanate (PAPI) as raw materials to prepare flexible lightweight polyimide foam sheets (PIFSs) with a thickness of mm using liquid foaming and compression molding technology [Figure 10][78]. The bubble structure can also be adjusted by changing the quantity of monomer or load of PAPI to obtain better sound absorption performance. For example, a specific quantity of 3.4′-ODA has been found to increase the sound absorption of PIFSs by a range of 0.04 to 0.16, likely due to the linear thermoplastic construction in the polymer matrix, which amplifies the sound wave's viscosity dissipation; In the 50-1750 Hz frequency band, P3, with a density of 0.178 g/cm3, surpassed P1 at 0.116 g/cm3 in terms of performance, however, both had worse sound absorption than P2 at 0.152 g/cm3, with the a value rising with increasing density for medium to high frequencies. In addition, the flexible PIFSs can be well applied to equipment with complex geometric shapes, such as the streamlined aircraft sound insulation shell, the sound insulation layer inside the automobile, etc. However, the sound absorption property under 50 Hz and 1650 Hz cannot meet the requirement of applications, so it is essential to maximize the performance of PIFSs to increase the sound absorption coefficient between 50 Hz and 1650 Hz. Introducing a macro-level pointed hole structure on PI foam is also a way to improve sound absorption performance. Ren et al. selected a split structure mold to synthesize polyimide foam (PIF) material, which not only adjusted the cell structure on a large scale but also introduced macro pointed holes, which improved its sound absorption performance [Figure 11][13]. It is worth noting that its unique wedge-shaped cavity structure not only improves the proportion of sound waves absorbed into the material, but also gradually attenuates the absorbed and reflected sound waves in the wedge-shaped cavity, thus achieving effective sound absorption, especially improving the absorption energy in the medium frequency band. Song et al. innovatively used PI fiber, aramid fiber, and aramid nanofiber suspension (ANFs) to synthesize porous polyimide/aramid sponge (PASG) with lightweight, high thermal stability, strong compression resilience, good heat insulation, and sound absorption properties[79]. The role of ANFs is to enhance the interfacial bonding strength between different components and adjust the sound absorption performance of PASG. In general, polyimide can be used in traditional sound insulation. Still, more research is needed to make it thinner, more flexible, more economical, and environmentally friendly to meet the needs of future applications.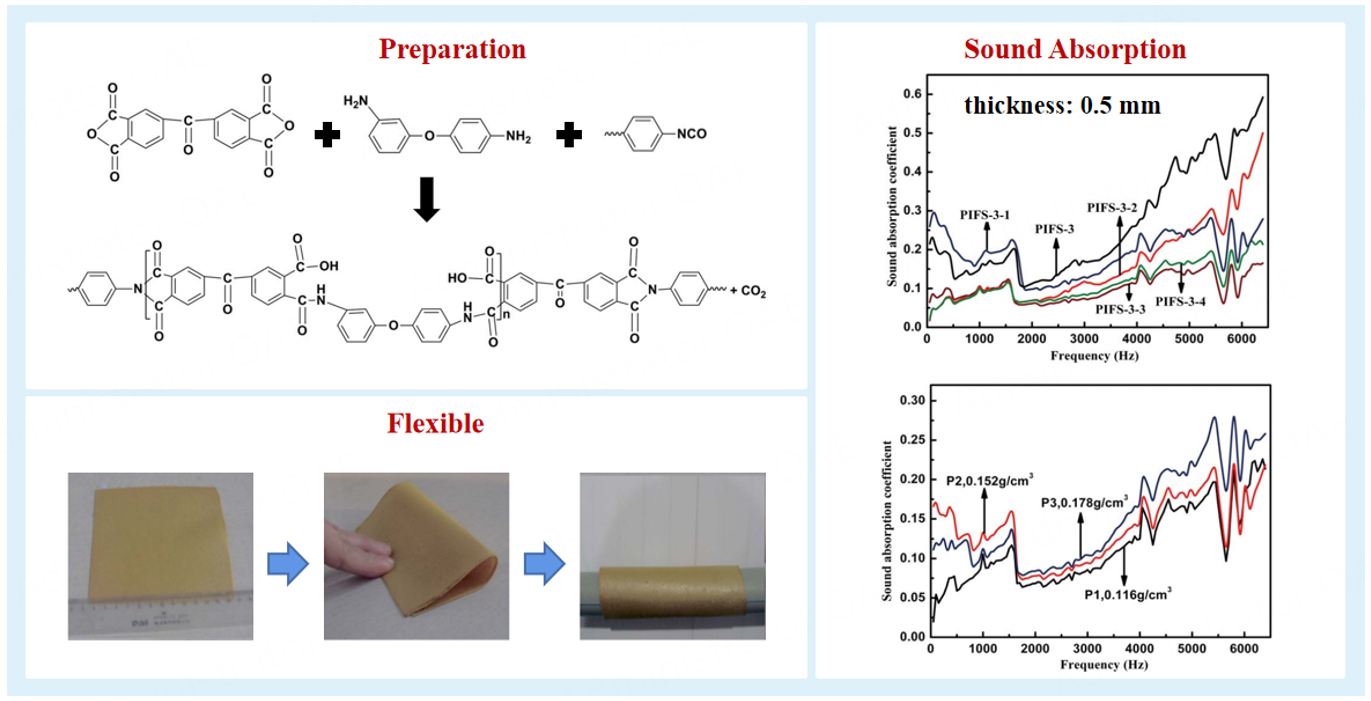 Figure 10. The preparation, flexible property, and sound absorption property of PIFSs[78].

Figure 11. Preparation of PIF and the sound absorption performance of its wedge-shaped pore structure[13].