Abstract
Human-machine interactions are becoming increasingly required for intelligent sensing and effective manipulation. Recent developments in flexible piezoelectric sensors with short response time and high force-electric interconversion efficiency present a tendency toward facilitating diverse human-machine interactive applications. Here, we review the development of flexible piezoelectric human-machine interactions in the context of robotic control, the Internet of Things, sports coaching and acoustic therapeutics. The synthesis of unique materials, the distinct design of device structures, the typical applications of piezoelectric human-machine interactions and the integration of cutting-edge technologies are elaborated in detail based on recent research. Finally, we highlight the current challenges and directions for the development of piezoelectric human-machine interactions for more advanced application scenarios.
Keywords
Piezoelectric devices, human-machine interactions, wearable devices, flexible electronics
INTRODUCTION
With the rapid development of sensing and information technologies, smart flexible electronics have become a popular research topic, especially concerning cutting-edge technologies like artificial intelligence (AI) and human-machine interactions (HMIs), which greatly facilitate and enrich people's lives[1-4]. Effective overall design and continuous improvement of user experiences are key to the development of HMI systems[5-7]. Nevertheless, conventional electronic devices are often rigid and unwieldy, restricting their wearability and conformability with human skin, which severely affects the sensing accuracy and user experiences. On this basis, many researchers globally have investigated flexible electronic devices with more eminent stretchability and flexibility for applications such as health monitoring[8-14] and gesture interactions[15-17]. These flexible devices can be fixed to any shape of object[18,19], such as skin[20-23], gloves[24,25] and rackets[26], to continually monitor human behavior in real time. HMIs serve as a bridge for information exchange between users and machines and also represent an indispensable link for next-generation applications, such as virtual reality (VR)[27-29]. Generally, a typical HMI system can be categorized into several parts, including signal perception, information transmission, signal processing and feedback execution. Among these parts, signal perception is the most important part as it detects external stimuli, especially tactile signals, and builds the basis of the whole interaction process.
To date, several principles have often been utilized for sensing in HMI systems, including the piezoelectric[20,26,30,31], piezoresistive[32,33], capacitive[34,35] and triboelectric effects[19,25,36]. Among them, human-machine interfacial sensors based on the piezoelectric effect, which can generate an electric displacement in response to an applied mechanical stimulus, have been widely used for tactile sensing, due to their outstanding performance with high sensitivity, fast response time and self-powered operation[37]. Furthermore, due to the inverse piezoelectric effect, piezoelectric materials can be deformed under an external electric field, which facilitates the preparation of an all-in-one device with both sensing and actuation functions. Moreover, incorporated with various novel technologies like augmented reality (AR), virtual reality and machine learning, piezoelectric HMIs (P-HMIs) are expected to improve people's daily lives to a more intelligent, convenient and interconnected level[38-41].
This review covers the recent progress made regarding smart flexible piezoelectric devices in the field of HMIs. Research concerning flexible piezoelectric electronics is comprehensively summarized and highlighted along with real-life P-HMIs, including robotic control, the Internet of Things (IoT), sports coaching, acoustic therapeutics and machine learning-enhanced P-HMIs [Figure 1][27,42-46]. Finally, the current challenges and prospects of P-HMIs are provided from our perspective, ranging from materials science and structural design to diverse potential applications in the near future.
Figure 1. Overview of P-HMIs, including robotic control, the Internet of Things, sports coaching, acoustic therapeutics and machine learning. Reproduced with permission from ref.[42]. Copyright 2015, Royal Society of Chemistry. Reproduced with permission from ref.[43]. Copyright 2020, Elsevier. Reproduced with permission from ref.[27]. Copyright 2022, Elsevier. Reproduced with permission from ref.[44]. Copyright 2021, IEEE. Reproduced with permission from ref.[45]. Copyright 2021, MDPI. Reproduced with permission from ref.[46]. Copyright 2019, Wiley.
HMIs OF FLEXIBLE PIEZOELECTRIC DEVICES
SUMMARY AND OUTLOOK
Since the discovery of the piezoelectric effect, researchers globally have been inspired to find approaches to improve the performace and enrich the applications of piezoelectric devices. In this review, the recent progress in P-HMIs has been presented around the applications in robotic control, the IoT, sports coaching, acoustic therapeutics and machine learning. Given the latest trend in academic research on P-HMIs, we have depicted a comprehensive diagram to explicate the summary and perspectives of P-HMI[98-103], as shown in Figure 7. As the cornerstone of piezoelectric devices, piezoelectric materials largely determine their comprehensive performance, such as sensitivity and response range. How to improve the electromechanical coupling efficiency of piezoelectric materials, including organic materials, inorganic materials, composite materials and biological materials, is the focus of future research, especially considering both mechanical flexibility and piezoelectric output[98,100,104-110]. In addition, the effective design of device structures also plays an important role in P-HMIs. Planar, sandwiched and three-dimensional structures are three of the most popular architectures for HMIs[101-103,111]. The development of high-performance piezoelectric devices by improving structural designs for scenario-specific application requirements is another important research direction.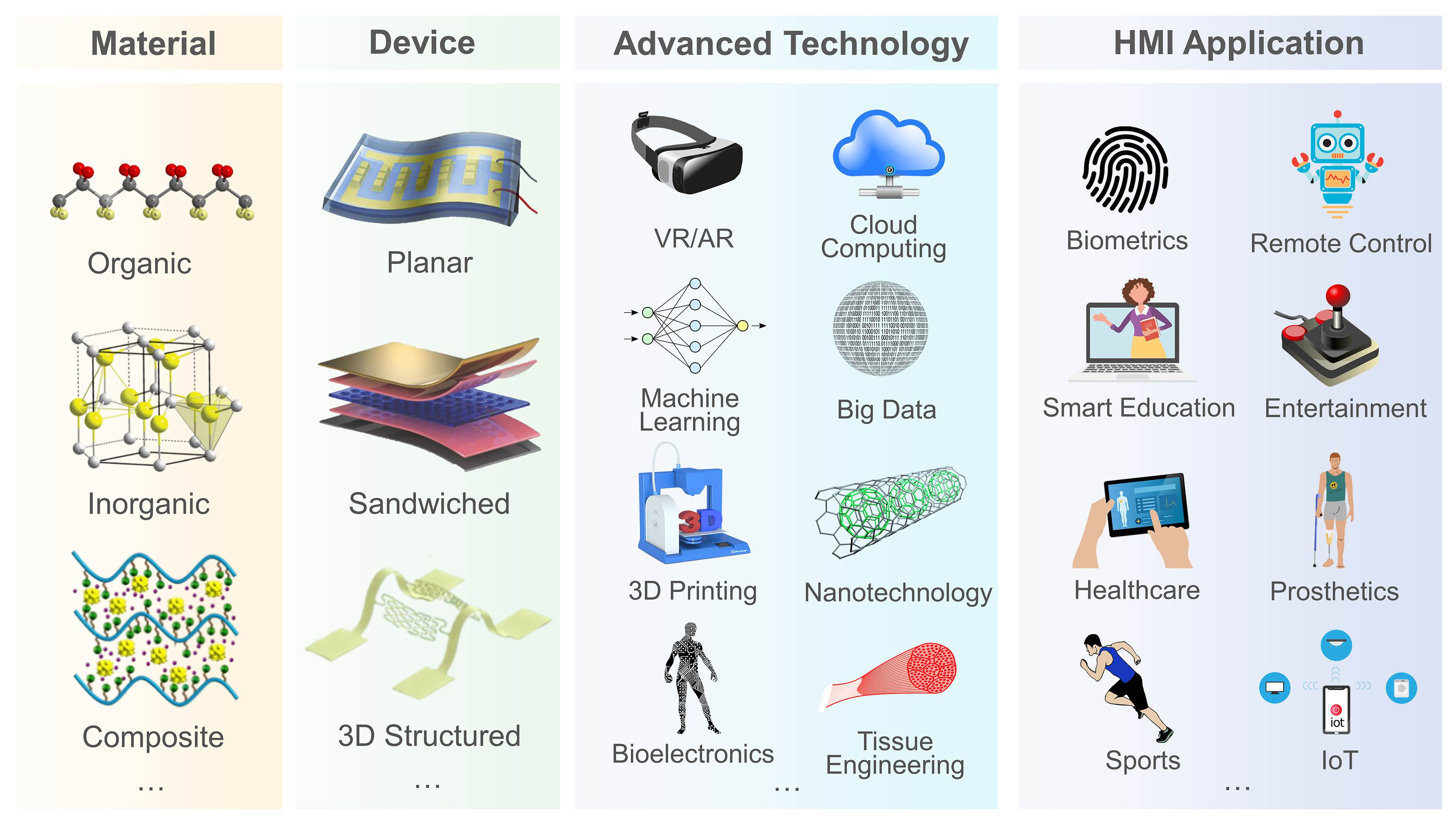 Figure 7. Outlook for P-HMIs: from piezoelectric materials to future applications. Reproduced with permission from ref.[98]. Copyright 2008, Elsevier. Reproduced with permission from ref.[99]. Copyright 2009, AIP Publishing LLC. Reproduced with permission from ref.[100]. Copyright 2020, Elsevier. Reproduced with permission from ref.[101]. Copyright 2019, Elsevier. Reproduced with permission from ref.[102]. Copyright 2018, Wiley. Reproduced with permission from ref.[103]. Copyright 2019, Springer Nature.
With the rapid development of various advanced technologies, such as VR/AR, cloud computing, 3D printing and so on, the incorporation of P-HMIs with these technologies will be the focus of both academia and industry. For instance, with VR/AR integrated P-HMIs, people will be able to chat with their friends, watch movies or play video games more interactively and immerse themselves in the virtual world[40,41,44]. With the development of cloud computing and big data, wearable P-HMIs can collect human health-related physiological and behavioral information. On this basis, massive amounts of data would be processed and computed on cloud platforms, which could extract more detailed information. Moreover, with high-efficient data analysis on the cloud, applications such as remote smart medical care would be better facilitated in the future[112,113]. Furthermore, benefiting from cutting-edge nanotechnology and tissue engineering techniques, P-HMI will become even more miniaturized and friendly for human bodies. Combined with machine learning and other algorithms, P-HMI with large-scale sensing and feedback shows enormous promise in many fields, such as intelligent diagnostics, smart education, biometrics and so on, which is of great significance for improving the quality and convenience of our daily lives. However, there are still many challenges that must be addressed for P-HMIs to fulfill the above-mentioned smart applications:
(1) The competitive relationship between mechanical flexibility and piezoelectric output has been the focus of research on flexible piezoelectric devices for a long time. How to balance their relationship to obtain high performance for P-HMI needs to be further explored, especially considering the piezoelectric effect for sensing and the inverse piezoelectric effect for actuation in an integrated manner.
(2) Many different working principles can be used for sensing and actuation of HMIs and the fusion of multiple principles is an important development trend. The coupling of different principles expects hybrid flexible HMI devices to exhibit better sensitivity, wider detection range and higher signal-to-noise ratio.
(3) To obtain more accurate and higher-resolution monitoring information, the number of sensors used for HMIs will continue to increase. Along with this, it poses higher challenges for the large-scale preparation of piezoelectric devices and the processing of massive amounts of information.
(4) P-HMIs usually involve multidisciplinary intersections, including materials science, mechanical engineering, electronic technology, biomedical engineering and so on. In the future, scientists and engineers will need more interdisciplinary knowledge to engage in the complicated R&D processes of P-HMIs to advance their practical applications.
In summary, flexible piezoelectric human-machine interactive devices have sparked numerous ideas and thoughts in both academia and industry. Although the fantasies in science fiction would not come true all at once, increasingly more meaningful applications will be realized with the development of P-HMIs. Intelligent HMIs will bring convenience and efficiency to all aspects of our daily lives, raising them to a level we could never have imagined.
DECLARATIONS
Authors' contributions
Conceptualization, investigation, wrote the original draft: Liu J
Reviewed and revised the manuscript: Tian G, Deng W
Supervision, project administration, funding acquisition: Yang W, Deng W
Availability of data and materials
Not applicable.
Financial support and sponsorship
This research was financially supported by the National Natural Science Foundation of China (No.61801403) and the Basic Research Cultivation Project (No.2682021ZTPY004).
Conflicts of interest
All authors declared that there are no conflicts of interest.
Ethical approval and consent to participate
Not applicable.
Consent for publication
Not applicable.
Copyright
© The Author(s) 2022.
Cite This Article
OAE Style
Liu J, Tian G, Yang W, Deng W. Recent progress in flexible piezoelectric devices toward human-machine interactions. Soft Sci 2022;2:22. http://dx.doi.org/10.20517/ss.2022.23
AMA Style
Liu J, Tian G, Yang W, Deng W. Recent progress in flexible piezoelectric devices toward human-machine interactions. Soft Science. 2022; 2(4):22. http://dx.doi.org/10.20517/ss.2022.23
Chicago/Turabian Style
Liu, Jiaqing, Guo Tian, Weiqing Yang, Weili Deng. 2022. "Recent progress in flexible piezoelectric devices toward human-machine interactions" Soft Science. 2, no.4: 22. http://dx.doi.org/10.20517/ss.2022.23
ACS Style
Liu, J.; Tian G.; Yang W.; Deng W. Recent progress in flexible piezoelectric devices toward human-machine interactions. Soft Sci. 2022, 2, 22. http://dx.doi.org/10.20517/ss.2022.23