INTRODUCTION
The discovery of the spontaneous adsorption of organic alkane disulfides to metal substrates, such as gold, in 1983 by Nuzzo and Allara as the first example of Self-assembled monolayers (SAMs) and the subsequent use of alkanethiols has led to the widespread use of SAMs[1-3]. Over the past few decades, SAMs have been widely used as a robust surface modification method in various industrial fields, such as in microelectromechanical system (MEMS) devices[4], antifouling coatings for biomaterials[5], and microcontact printing[6,7]. Compared to conventional polymer coatings, such as polytetrafluoroethylene, SAMs applied onto a surface can be controlled to reach thicknesses in the nanometer range with high uniformity and hydrophobicity[8,9]. For example, silane-based SAMs are routinely applied as nanocoatings in MEMS devices due to their ability to decrease adhesion and friction leading to enhanced performance[10-13].
Compared to normal silane SAMs, which only bind to metal oxides and silicon, thiol-based adsorbates are more compatible with the surfaces of metals, such as gold, silver, and copper, or III-V compounds such as GaAs[14]. As a well-known system, stability has been the major issue that has hindered thiol-based SAMs for further applications. Compared to N-heterocyclic carbenes (NHC)-based SAMs on gold or silane-based SAMs on silicon, which form strong covalent bonds between the adsorbates and substrates, the S-Au interaction is less stable in ambient conditions[15,16]. Previous research has shown that normal alkanethiol SAMs organized by van der Waals (vdW) interaction are sensitive to temperature and desorb from gold surfaces at 70 °C[2,17]. In addition, strong oxidizing reagents damage thin films and produce disulfides in a short period of time.
To broaden the application of SAMs, researchers have put in great effort to develop a more stable SAM system on gold that shows good resistance to high temperatures and harsh chemical conditions. Intermolecular crosslinking is an effective method used to enhance the thermal and chemical stability of SAMs. It is noted that SAM molecules consist of three key parts: the headgroup binding to the corresponding substrate; the methylene spacer, which provides vdW interchain interactions; and the tailgroup[18]. Theoretically, intermolecular crosslinking can occur in all three parts of the SAM molecules. However, unlike the natural formation of a polymerized network for the silane headgroup, the bonding nature of sulfur atoms of thiols determines that crosslinking at the headgroup for thiol-based SAMs is not achievable[19,20].
This review focuses on the crosslinking process of corresponding adsorbates and their applications in materials science. The crosslinked SAMs introduced in this chapter are divided into six categories: (1) aromatic thiol-based SAMs; (2) olefinic- and acetylenic-based alkanethiols; (3) other aliphatic alkanethiols; (4) silane-based alkanethiols; (5) boronic acid-based alkanethiols; and (6) crosslinked SAMs realized by hydrogen bonding [Figure 1].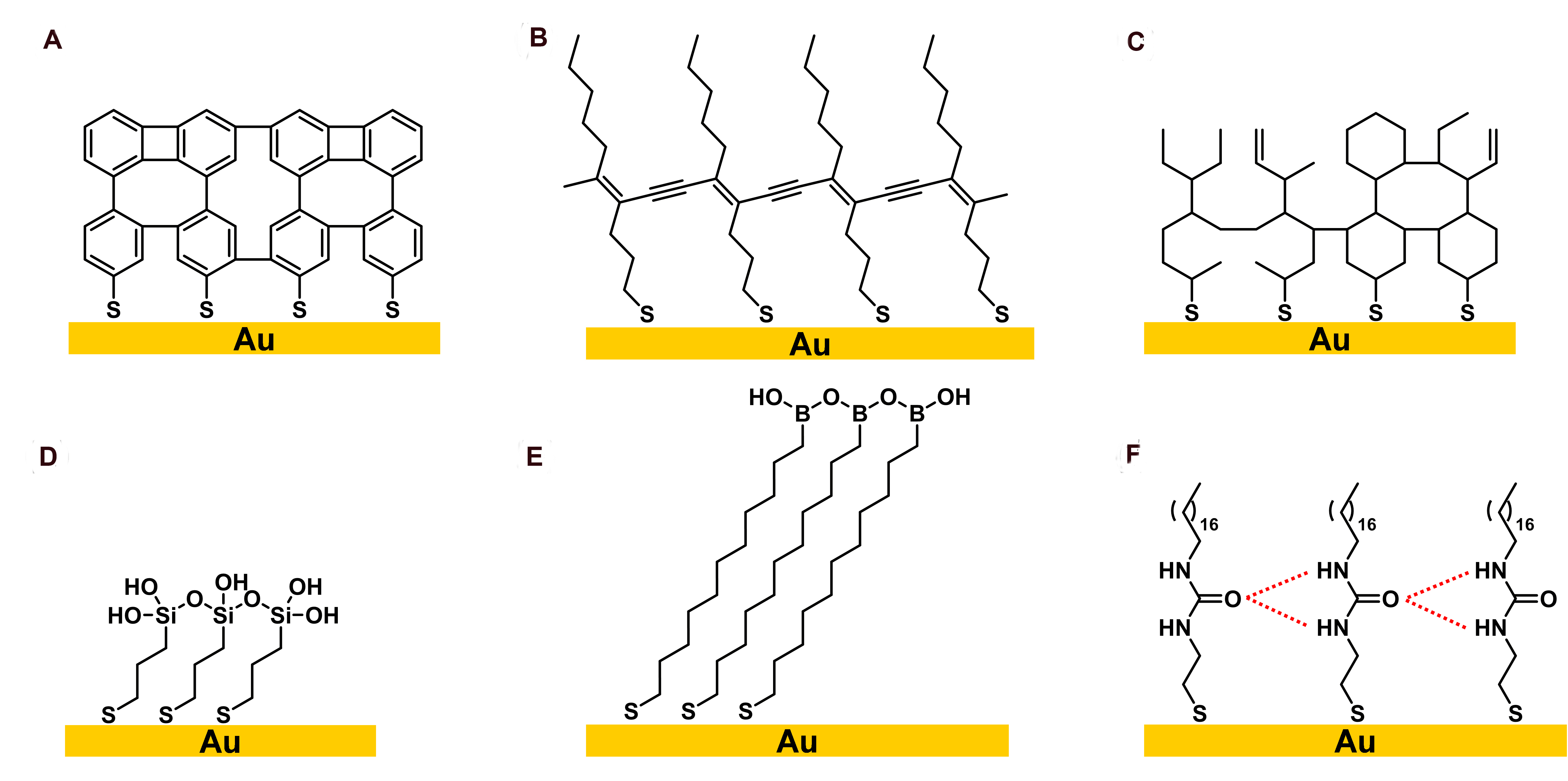 Figure 1. Six different types of crosslinked SAMs: (A) aromatic thiol-based SAMs; (B) acetylenic-based alkanethiols; (C) other aliphatic alkanethiols; (D) silane-based alkanethiols; (E) boronic acid-based alkanethiols; and (F) crosslinked SAMs realized by hydrogen bonding. SAMs: Self-assembled monolayers.
Table 1 highlights six types of crosslinked SAMs, their corresponding methods of formation, and their potential applications. In contrast to previously published reviews of SAMs, which are largely focused on SAM structures, characterizations, and targeted applications, this review focuses on the stability of crosslinked SAMs and their corresponding applications in materials science. We hope this review will enlighten future advances in nanofabrication and bioengineering.
Table 1
Crosslinked SAMs, their methods of formation, and their potential applications
Crosslinked SAMs
Formation method
Applications
Aromatic thiol-based SAMs
Electron irradiation
1. Electron-beam lithography
2. Surface functionalization
3. Surface-initiated polymerization
4. Carbon nanomembranes (CNMS)
Acetylenic-based alkanethiols
UV irradiation
1. Photolithography
2. Nanoparticles for antifouling
3. Single-layer polydiacetylene fabrication
Aliphatic alkanethiols
Electron irradiation
1. Electron-beam lithography
Silane-based alkanethiols
Hydrolysis
1. Surface-initiated polymerization
2. Surface passivation
Boronic acid-based alkanethiols
Condensation in dry solvents
In development
Crosslinked SAMs realized by hydrogen bonding
Hydrogen bonding
1. Selective binding of cations on surfaces
2. Thermally stable coatings
CROSSLINKED AROMATIC THIOL-BASED SAMS
In 1999, Geyer et al.[21] discovered that biphenyl-4-thiol (BPT) can crosslink laterally upon low energy electron irradiation at 50 eV. Additionally, various kinds of SAMs based on aromatic thiols or thiolates can also undergo similar intermolecular crosslinking, which turns the original system into a crosslinked aromatic SAM system [Figure 2][22].
Figure 3[23] summarizes electron-induced crosslinking of aromatic thiol-based SAMs with three different tailgroups compared to n-alkanethiol-based SAMs. Unlike the BPT SAMs, which form a crosslinked network under electron irradiation [Figure 3B], normal alkanethiol-based SAMs partially desorb from gold surfaces and form double bonds randomly, as shown in Figure 3A[24,25]. Figure 3C shows that compared to hydrocarbon aromatic SAMs, nitro-terminated aromatic SAMs not only show crosslinking upon electron irradiation but also have their nitro groups reduced to amino groups[26]. In addition, Zharnikov and co-workers discovered that crosslinking of biphenylthiol SAMs terminated with CH2NO2 reduced to SAMs terminated with CH2NH2 upon electron irradiation, as shown in Figure 3D[27].
Taking BPT SAM as an example, the formation of the crosslinking can be summarized as a dissociative electron attachment (DEA) process [Figure 4][28]. First, under the impact of irradiation, such as electrons or X-rays, a gold substrate emits secondary electrons, as shown in Figure 4A and B[29]. The dissociative primary and secondary electrons lead to C-H bond cleavage of phenyl rings with hydrogen atoms left behind, which yields transient negative ions, as shown in Figure 4C[30]. In this process, the electron affinity of the phenyl radical is 1.1 eV, which is higher than that of hydrogen (0.75 eV)[31]. Thus, the dissociative electron attaches to the phenyl fragment ion instead of hydrogen. The DEA process for benzene is expressed in Equation 1.
The key factor for the lateral crosslinked product is the stability of the aromatic backbones, leading to the formation of single and double bonds between the phenyl rings, followed by the release of hydrogen. At the end of the reaction, the lateral crosslinking is terminated by the self-quenching of electron tunneling to the gold surface [Figure 4D][28]. In addition, researchers found that crosslinking of aromatic SAMs also occurs upon exposure to other sources of irradiation such as X-rays (10-100 eV)[32], helium ion beam (HIM, 35 keV)[33], and extreme UV (EUV, 92.5 eV)[34]. These results further confirmed that primary electrons originating from the incoming electron beam are not necessary and that, instead, secondary electrons emitted from the gold surface play a more important role in the crosslinking process.
In addition to irradiation energy, another key parameter for crosslinking aromatic SAMs is the electron dose, which is used to measure the quantity of charge per unit area upon irradiation. Interestingly, there is only a slight difference in crosslinking conditions (electron energy and dose) between extensive SAM precursors. To determine the optimal conditions for irradiation-induced crosslinking, scientists have used the cross section, σ, as a parameter to gauge when a rate reaches saturation behavior[35]. The cross section for the electron irradiation involves a balance between the crosslinking degree of the SAMs and the damage to the gold interface, which is determined as the primary electron energy of 50 eV[30]. Recently, Koch and co-workers investigated the crosslinking efficiency of halogenated biphenyl thiols[36]. The authors found that iodide-substituted biphenyl thiol showed more efficient electron-induced crosslinking than fluorine- or bromine-substituted species. Moreover, the electron dose determines the degree of crosslinking, and the crosslinking degree of the SAMs increases with the electron dose, reaching a maximum of ~90% at an electron dose of ~50 mC/cm2 and above, as determined by X-ray photoelectron spectroscopy (XPS)[37]. However, completely crosslinked SAMs are not achievable because of the steric effect of the biphenyl structure[28]. Upon irradiation at higher doses, no further change to the resulting film itself is observed, but the gold interface is damaged, and crosslinked films are desorbed from surfaces[37].
Compared to the pristine BPT SAM, infrared (IR) spectra for the crosslinked product show that two peaks arising from the C-H stretching vibration of the pristine phenyl ring at 3046 cm-1 and 3038 cm-1 disappear after electron irradiation. Figure 5 shows the XPS spectra for the C 1s and S 2p regions of (A) biphenyl-terminated SAMs and (B) terphenyl thiol SAMs following electron irradiation (50 eV, 60 mC/cm2)[22]. In the C 1s region, the integrated C 1s peak decreases in both of the SAMs investigated after crosslinking. The carbon content in the biphenyl-terminated SAM with hydrocarbon chains is decreased by 16%, and the calculated thickness is decreased from 12 Å to 10 Å, as determined by XPS. To explain these results, Schnack and co-workers performed a molecular dynamics simulation for crosslinking various biphenyl-terminated SAMs, which indicated that partial dissociation of the aromatic rings takes place to maximize the 2D molecular network[38]. In the XPS spectra obtained for S 2p, pristine SAMs exhibit a characteristic peak due to bound thiols (red lines), which appears as a doublet (S 2p3/2 and S 2p1/2) at binding energies of 162.0 eV and 163.0 eV, respectively[39]. The new peak appearing at 163.5 eV for the crosslinked SAMs suggests the formation of unbound sulfur species or disulfides because of the cleavage of S-Au bonds after irradiation, as shown by the green line obtained by spectral deconvolution. The results obtained from low-energy electron diffraction and a scanning tunneling microscope (STM) also indicate a loss of long-range order in the crosslinked aromatic SAMs.
CROSSLINKED OLEFINIC- AND ACETYLENIC-BASED SAMS
Beside crosslinked aromatic thiol-based SAMs, crosslinked SAMs from olefinic- and acetylenic-based alkanethiols have also been well studied by scientists. Additionally, polydiacetylene materials are a type of conducting polymer with special optical properties that have extensive applications in photonics, nanoelectronics, and biosensors[78]. When polydiacetylene materials couple with chemical and biological stimuli, their characteristic absorption peak shows a redshift. Therefore, they have a sensitive chromic response to microorganisms, viruses, and proteins, which is attractive for biosensing applications[79].
Crosslinked SAMs containing polydiacetylene were first reported by Batchelder et al.[80] in 1994. The authors deposited polymeric monolayers from diacetylene-containing disulfide onto Au (111) surfaces, as shown in Figure 14. Similar to diacetylenes in the solid-state, the chain polymerization of diacetylene thiolates (DATs) on surfaces follows some spatial conditions: the distance of the adjacent thiolates is 4.7-5.2 Å, and the distance between the C1 carbon of one diacetylene group to the C4 carbon of the adjacent diacetylene group (black arrow in Figure 14) is 3.4-4.0 Å[81,82]. In contrast, diacetylenes undergo both 1,2- and 1,4-polymerization in solution.
The mechanism for 1,4-photopolymerization of diacetylenes is illustrated in Figure 15[82]. First, the initiation is started by UV irradiation of DAT monomers, which generates a diradical monomer, as shown in Figure 15A and B. After that, an addition reaction occurs at both ends of the diradical monomer, as shown in Figure 15C. Finally, chain propagation at both sides [Figure 15D] is followed by the termination of reactive radicals, as suggested by the blue circles in Figure 15E. The polydiacetylene backbone contains alternating double and triple bonds, which are represented in a resonance structure of three cumulative double bonds, as shown in Figure 15E.
In a following study, Cai et al.[81] investigated the influence of ultraviolet (UV) exposure time on the crosslinked product. They used resonance Raman spectroscopy to monitor the polydiacetylene backbone in crosslinked SAMs as a function of UV exposure time, which showed that the effective conjugation length in crosslinked DAT SAMs reached a maximum at 7 min before decreasing. This might be due to the increase in the hybridization strain in the polydiacetylene backbone as well as in the methylene chains with prolonged UV exposure. Batteas and co-workers studied the properties of crosslinked dodeca-4,6-diyne-1-thiol (C3-DATs)[83].Figure 16A shows the ATR-FTIR spectra obtained for C3-DATs and C3-poly-DATs on Au (111) surfaces. In both spectra for C3-DATs and C3-poly-DATs, the peaks at ~2923 cm-1 and ~2854 cm-1 are attributed to a methylene asymmetric and symmetric stretching band, respectively. After polymerization, a decrease in both peak intensities is observed without the peak position shifting, which is due to the decrease in the tilt angle of the alkyl chains. As shown in Figure 16B, two new peaks at ~1875 cm-1 and ~2450 cm-1 for C3-poly-DATs are observed in the Raman spectra. These two peaks can be attributed to the new double and triple bonds formed in the product films, which further confirms the polymerization of the DAT SAMs.
In a separate study, Menzel et al.[84] studied the effect of the diacetylene functional group position on crosslinked DAT SAMs. They discovered that moving the diacetylene moiety closer to the thiol headgroup increases the hybridization strain in the alkyl chain, which reduces the conversion of polymerization. In addition, with carboxylic acid-terminated DATs on Au (111), researchers were able to convert carboxylic acid into acid chloride, followed by coupling with other DATs to fabricate double and multilayer polydiacetylene coatings[85]. By using this method, scientists utilized carboxylic acid-terminated DATs as scaffolds to build polydiacetylene thin films layer-by-layer, up to a thickness of 6 layers. The authors subsequently synthesized DAT SAMs on Au (111) with terminal methyl, hydroxyl, and carboxyl acid functional groups[86]. Compared to normal alkanethiol SAMs or pristine DAT SAMs on Au surfaces, all crosslinked DAT SAMs showed excellent stability toward repeated electrochemical cycling, high temperatures of up to 200 °C, and basic solutions[86].
Another type of crosslinked SAM derived from olefinic-based alkanethiols is mercaptomethyl styrene, which was discovered by Schlenoff and co-workers in 1996[87]. In this case, polymerization of the absorbates was initiated by immersing the substrate in an azo initiator solution at 58 °C or by irradiating with a green laser [Figure 17]. Time-resolved SERS spectra showed a peak at 1625 cm-1 that disappeared after crosslinking, which was attributed to the double bonds of the pristine SAM.
OTHER CROSSLINKED ALIPHATIC SAMS
In contrast to the crosslinking of aromatic thiol-based SAMs, aliphatic thiol-based SAMs undergo decomposition and disordering upon electron irradiation[92-95]. Interestingly, in the case of 4-cyclohexylcyclohexanethiols (CCHT), a cyclic aliphatic thiol-based SAM on Au (111), the irradiation-induced crosslinking process was found to be dominant over defragmentation and desorption[96].
Until now, the only study of irradiation-induced crosslinking of cyclic aliphatic thiol-based SAMs was reported by Zharnikov[96] and co-workers in 2012. The authors found that both SAMs generated from trans- and cis-conformations of CCHT crosslinked upon exposure to electron radiation, as shown in Figure 20. This contrasts with the linear aliphatic thiol-based SAMs, which were severely damaged when exposed to quite low irradiation doses (5-8 mC/cm2).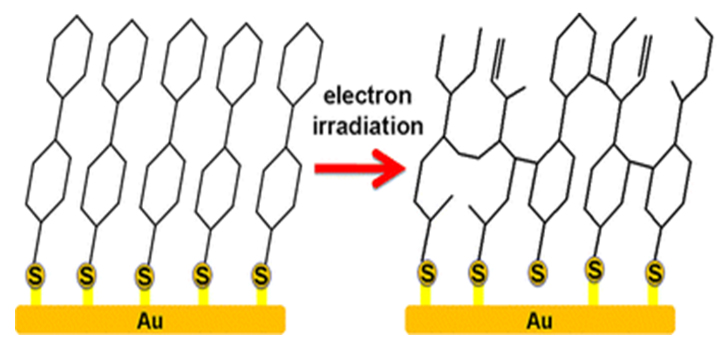 Figure 20. The formation of a crosslinked SAM of CCHT via electron irradiation. Reprinted with permission from Ref.[96], copyright 2012 American Chemical Society. SAM: Self-assembled monolayer; CCHT: 4-cyclohexylcyclohexanethiols.
Under electron irradiation conditions, the C-H bonds are cleaved to generate radical moieties, which are relatively stable because of the nature of the cyclic skeletons of CCHT before crosslinking to other absorbates to form a 2D molecular network. Compared to the linear aliphatic thiol SAMs, the presence of cyclic rings is the key to the dominance of crosslinking over fragmentation and desorption processes. In cases where the C-C bonds belonging to the cyclic rings are cleaved, both fragments were still attached to the molecule matrix, which then, subsequently form cross-linked bonds with neighboring molecules. Hence, the desorption of fragments is suppressed. The newly formed 2D network by crosslinking also hinders the cleavage of the headgroup-substrate S-Au bonds.
Applications
Electron-beam lithography
Similar to aromatic SAMs, crosslinked CCHT SAMs have been used as negative resists in e-beam lithography[96]. Figure 21 shows the SEM images of gold surfaces patterned using SAMs as resists: (A) cis-CCHT; (B) trans-CCHT; and (C) dodecanethiol (DDT). While the crosslinked SAMs composed of cis- and trans-CCHT were found to protect the irradiated areas and the nonirradiated areas were efficiently etched, the irradiation-induced damage to the DDT-based SAMs allowed preferred etching of the irradiated areas.

Figure 21. The SEM images of Au surfaces patterned using SAMs as resists: (A) cis-CCHT; (B) trans-CCHT, and (C) DDT. Reprinted with permission from Ref.[96], copyright 2012 American Chemical Society. CCHT: 4-cyclohexylcyclohexanethiols; DDT: dodecanethiol.
CROSSLINKED SILANE-BASED SAMS
Another important type of crosslinked SAMs are silane-based alkanethiols, which can be used in SIP[97], surface passivation[98,99], and anti-corrosion coatings[100,101]. The crosslinked silane network forms a dense film to prevent oxygen or moisture from diffusing into interfaces, which provides for long-term surface passivation. Additionally, the high thermostability of the crosslinked SAMs helps one to grow polymer brushes at high temperatures in applications involving SIP[97].
As a pristine molecule for crosslinked silane-based alkanethiols, (3-mercaptopropyl) trimethoxysilane (MPTMS) has been well studied and widely adopted in the aforementioned applications. Taking MPTMS SAM as an example, as shown in Figure 22, the formation of a crosslinked MPTMS SAM can be concluded in 3 steps: (1) MPTMS molecules are deposited onto a gold surface in anhydrous conditions to avoid self-polymerization; (2) hydrolysis of the silane converts the methoxy group (-OCH3) connected to Si to hydroxyl groups (-OH) in the presence of water; (3) at the same time, intermolecular condensation leads to the Si-O-Si structure forming a crosslinked polysiloxane network[102,103]. It should be noted that the trimethoxysilane group is less reactive to water than the trichlorosilane group, making it easier to control the polymerization of the silane on a surface[16]. In this stage, with silanol groups present on the surface, one can generate thick self-polymeric films[98] or enable grafting onto other silanes with specific functional groups[97].

Figure 22. Schematic representation of crosslinked MPTMS SAM formation on Au. Adapted from Ref.[102], copyright 2016 American Chemical Society. MPTMS: (3-mercaptopropyl) trimethoxysilane; SAM: self-assembled monolayer.
Applications
Surface-initiated polymerization
In 1994, Aramaki and co-workers coated hydroxyl-terminated alkanethiols onto a copper surface, followed by deposition of alkyltrichlorosilane[104]. The hydroxyl groups coupled with alkyl trichlorosilane resulted in a film with a crosslinked polysiloxane network. In 2011, Baker and co-workers used silane-based alkanethiols to fabricate crosslinked atom transfer radical polymerization (ATRP) initiators to grow polymer brushes on gold, as shown in Figure 23[97]. After the crosslinked MPTMS SAM was formed on Au to provide a hydroxylated surface, another silane terminated with an initiator was grafted onto the MPTMS SAM, which formed a second layer of crosslinked interchain polysiloxane. After adding methyl methacrylate monomer and catalyst, the system was heated up from 50 °C to 100 °C to initiate polymerization of PMMA from Au surfaces.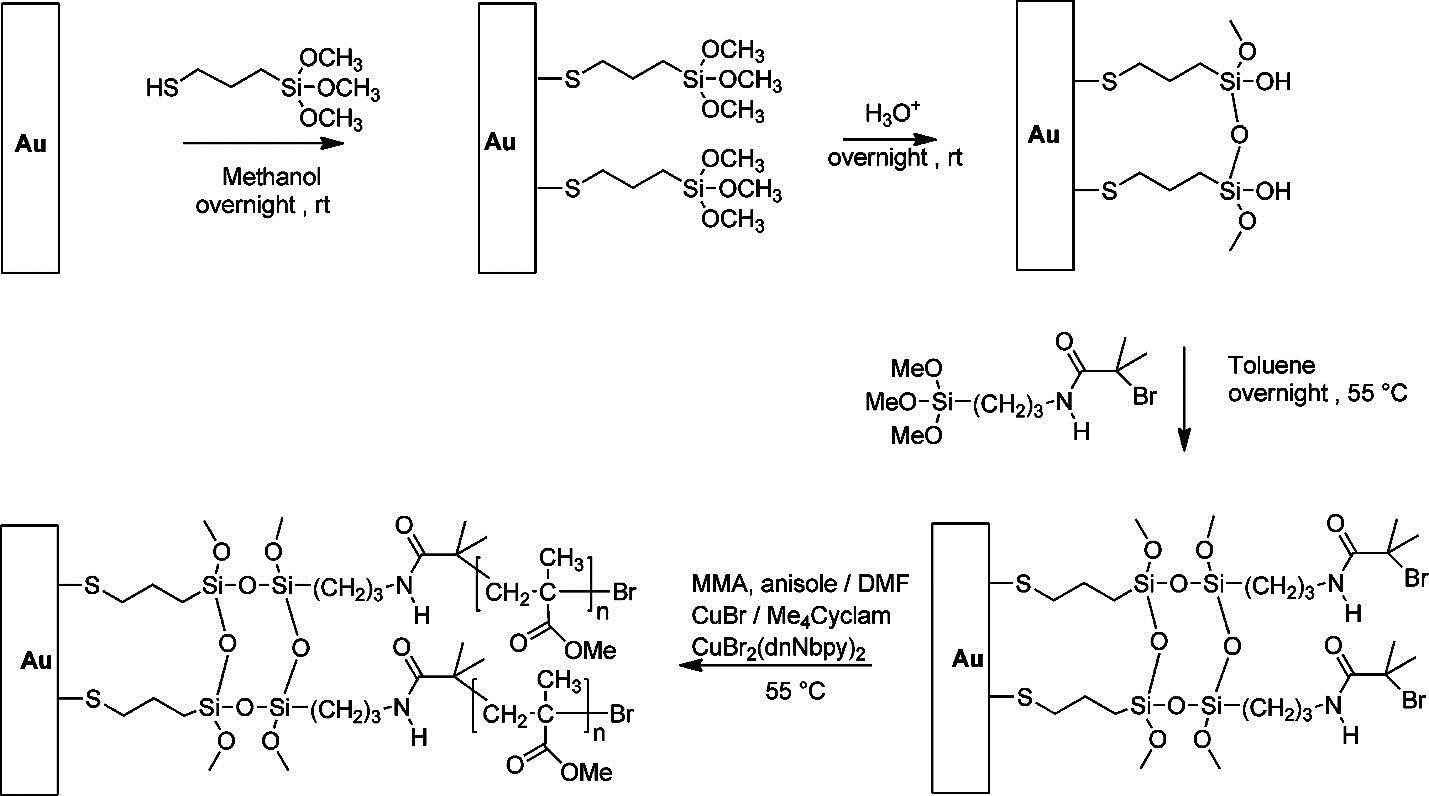 Figure 23. Surface-initiated polymerization of PMMA from crosslinked ATRP initiators on Au. Reprinted with permission from Ref.[97], copyright 2011 American Chemical Society. PMMA: Polymethylmethacrylate; ATRP: atom transfer radical polymerization.
The authors found that normal alkanethiols with ATRP initiator on gold led to the growth of thinner polymers compared to silane SAMs with ATRP initiator on a SiO2 substrate due to the poor thermostability of uncrosslinked initiators. In contrast to a crosslinked polysiloxane primer layer, polymer brushes grown from ATRP initiators on Au reached the same thickness as on a SiO2 substrate, as shown in Figure 24. Thanks to the highly stable Si-O bond of crosslinked silane-based SAMs, the novel ATRP initiator allowed SIP at higher temperatures of up to 100 °C, which provides polymer growth from less reactive monomers such as styrene and vinyl pyridine.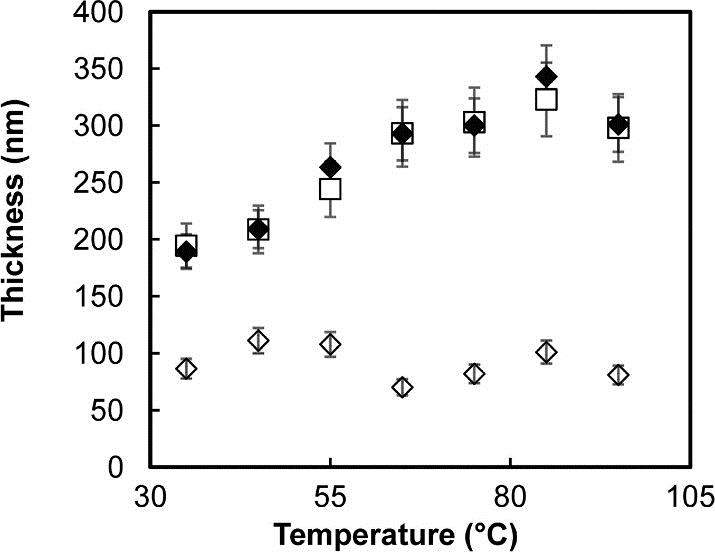 Figure 24. Temperature-dependent surface-initiated polymerization of MMA from various initiators; ◊ PMMA grown from a standard initiator; ⧫ PMMA grown from the crosslinked initiator; and ◻ PMMA grown from a silane initiator on SiO2. Reprinted with permission from Ref.[97], copyright 2011 American Chemical Society. PMMA: Polymethylmethacrylate; MMA: methyl methacrylate.
Compared to the aromatic thiol-based SAMs, homogeneous SIP from crosslinked silane-based alkanethiols is cost-efficient because it does not need an expensive e-beam lithography system for the crosslinking process. However, it is difficult to pattern silane-based SAMs since it has been reported that silanes are not compatible with microcontact printing techniques[16].
Surface passivation
GaAs is a promising III-V semiconductor material that is widely used in devices such as photovoltaics, light-emitting diodes, photonics, and radio frequency transistors, thanks to its high electron mobility and direct bandgap[105,106]. To date, GaAs solar cells have shown record-breaking conversion efficiencies, ~29% for single-junction cells[107]. However, GaAs can become oxidized in the ambient environment, and the oxide layer formed on GaAs can significantly decrease the solar cell efficiency[108]. Hence, surface passivation of GaAs devices to prevent oxidation and corrosion is the key to enhancing the durability and performance of GaAs devices. Because sulfur species can bind to both Ga and As atoms to passivate unsaturated binding sites and form a thin protective layer on a GaAs surface, scientists have attempted to use several sulfur compounds to passivate a GaAs surface, such as (NH4)2S, Na2S, and normal alkanethiols[109,110]. However, when GaAs is treated with the first two inorganic salts, toxic H2S is produced. Moreover, passivation layers on the GaAs surface formed by all three kinds of compounds are less than 2 nm thick, which means that oxygen can still diffuse into the protective film to oxidize the GaAs surface after 2 days[111].
In 1997, Kauffman and co-workers discovered that MPTMS SAM was a good candidate for GaAs surface passivation[99]. After years of development, MPTMS has been widely used in GaAs devices such as solar cells and GaAs-based sensors, and the process used for surface passivation has become efficient and mature[98]. As shown in Figure 25A-C, after hydrolysis in solutions of concentrated MPTMS and NH4OH, the MPTMS monolayer formed on GaAs is crosslinked with other MPTMS molecules in the solution phase, which forms a 3D polysiloxane network. Finally, a relatively thick polymeric layer on the GaAs surface is generated, with the thickness of the resulting films ranging from 15 nm to 33 nm, which is controlled by varying the concentration of the MPTMS and NH4OH solutions[98]. The results show that GaAs devices with MPTMS coatings show long-term stability in air or aqueous environments for at least 10 days without sacrificing their original performance.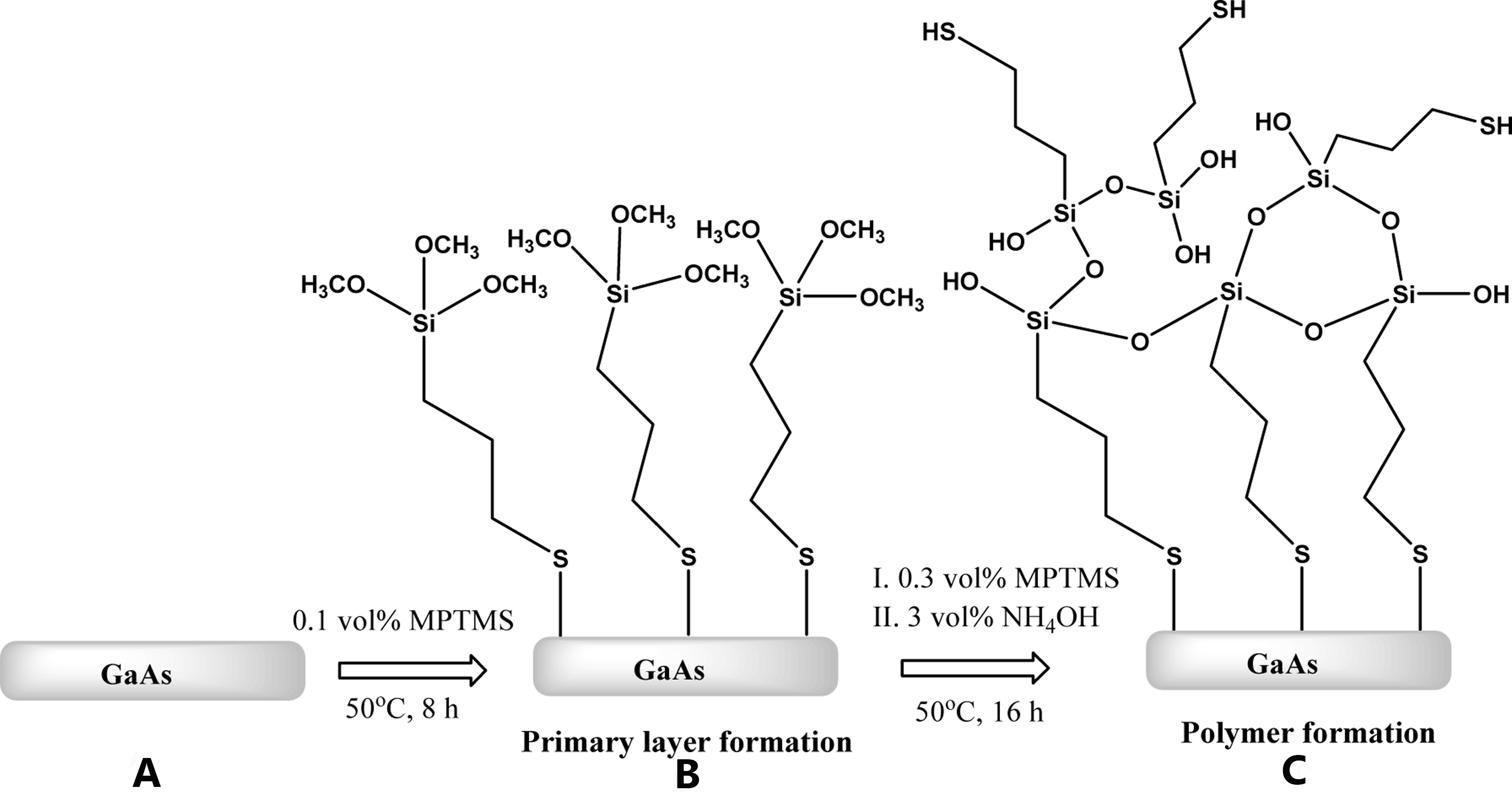 Figure 25. Schematic representation of an MPTMS coating on the surface of GaAs: (A) cleaned and etched GaAs sample, (B) primary layer formation, and (C) polymer formation. Reprinted with permission from Ref.[102], copyright 2016 American Chemical Society. MPTMS: (3-mercaptopropyl) trimethoxysilane.
Moreover, in 2002, Seitz and co-workers achieved polymerization of MPTMS in a solution sol-gel process for GaAs surface passivation[111]. In the follow-up research, this process was further developed to be used as an anti-corrosion coating for copper by Sui et al.[101]. Unlike the method introduced above, a polysiloxane network was formed by the polymerization of MPTMS in solution before being coated onto the copper surface.
CROSSLINKED BORONIC ACID-BASED SAMS
In 1994, Whiteside and co-workers utilized boronic acid-based alkanethiols to fabricate a crosslinked boronic anhydride surface[112]. Although this research was focused on boronic acid-based SAMs[113], subsequent research for boronic acid-based SAMs for crosslinking is limited. Additionally, there exists only limited research about the application of this kind of crosslinked SAM system.
A crosslinked boronic anhydride surface was first fabricated by the condensation of 11-mercaptoundecanyl-l-boronic acid, HS(CH2)nB(OH)2 in dry hydrocarbon solvents, such as isooctane, or under vacuum, as shown in Figure 26[112]. This reaction is reversible, and the crosslinked film can be converted back into a pristine monolayer in aqueous ethanol. The author also found that in dry hydrocarbon solvents, HS(CH2)nB(OH)2 molecules in the solution phase reversibly turn into trimers that adsorb onto gold and form a hydrophobic boroxine bilayer. The resulting hydrophobic bilayer can be converted into a hydrophilic monolayer again in aqueous ethanol. Similar to hydroxyl-terminated SAMs, both the HS(CH2)nB(OH)2 SAM and its crosslinked film can couple with alkyltrichlorosilanes irreversibly, turning into a borosilicate network.
Applications
Thermally stable coatings
The thermal desorption results show that the crosslinked boronic anhydride SAM is five times more stable compared to the structurally analogous 11-hydroxyundecane-l-thiol at 147 °C. However, it is difficult to tune the thickness or crosslinked area of crosslinked boronic acid-based SAMs. Moreover, the formation of crosslinked boronic anhydride surface is reversible. These drawbacks hinder the application of crosslinked boronic acid-based SAMs compared to other crosslinked systems such as aromatic thiol-based SAMs.

Figure 26. Schematic representation of a crosslinked boronic anhydride surface. Adapted from Ref.[112], copyright 1994 American Chemical Society.
CROSSLINKED SAMS REALIZED BY HYDROGEN BONDING
In addition to crosslinking with covalent bonding, another important type of crosslinked SAMs are SAMs with noncovalent interaction such as hydrogen bonding. Generally, the hydrogen bonding within these crosslinked SAMs arises from the amide functional group or carboxylic acid group in the tailgroups. In 1994, Rabolt and co-workers synthesized semifluorinated amidethiol, which was the first reported crosslinked SAM with hydrogen bonding, as shown in Figure 27A[114]. In a follow-up study, Whitesides and co-workers continued this research and synthesized a series of amidethiol SAMs, which were terminated with different functional groups, such as CH3, OH, CF3, COOH, etc., as shown in Figure 27B[115]. In 1997, Sastry et al.[116] prepared a 4-carboxythiophenol SAM, with the carboxylic acid moieties forming a hydrogen-bonding network at low pH, as shown in Figure 27C. In 2005, Kim et al.[117] synthesized SAMs with a urea moiety on gold, which formed a hydrogen-bonding network, as shown in Figure 27D.

When SAMs containing carboxylic acid, amide, and urea groups are absorbed on gold, hydrogen-bonding networks are formed spontaneously. In the case of the SAM containing a urea moiety in Figure 27D, infrared reflection-absorption (IRRA) spectra obtained for the SAM on gold show almost no amide I band, which appears at 1621 cm-1 in the spectra obtained for the bulk molecules[117]. This result proved that hydrogen bonding exists in the SAM network, which is composed of N-H and C=O bonds parallel to the surface, since only vibrations aligned with the surface normal appear in the IRRA spectra due to the metal-surface selection rule. In 2016, Thomas et al.[118] used STM to map the hydrogen-bonding networks formed in SAMs with an amide group. The submolecular-resolution STM images showed a linear pattern of molecule orientation (tilts) affected by hydrogen bonding, which further confirmed the existence of hydrogen bonding in the SAM network.
Applications
Selective binding of cations on surfaces
In the follow-up research, Liedberg and co-workers studied the thermal stability of SAMs influenced by hydrogen bonding, as measured by temperature-programmed desorption (TPD)[119]. They noted that SAMs with amide moieties show better thermostability compared to their normal alkanethiol analogs, with a temperature difference of 25 K for the thermodesorption, due to the hydrogen bonding. Moreover, Sastry et al.[116] studied the effect of a 4-carboxythiophenol SAM on the selective binding of Cd and Pb cations on surfaces. As shown in Figure 28, at low pH, the carboxylic acid groups at the interface are pronated and form a hydrogen-bonding network. They deprotonate and bind to cations in the form of Cd(OH)+ or Pb(OH)+ through an ion-exchange process. In addition, Rotello and co-workers investigated the position of the amide group in the alkyl chain in SAM-coated gold nanoparticles[120]. Their results showed that when the amide group is near the SAM interface, intermonolayer hydrogen bonding leads to the aggregation of nanoparticles.

Figure 28. Schematic representation of 4-carboxythiophenol SAM on Au at low pH, and ion adsorption [M+ = Cd(OH)+ or Pb(OH)+] at high pH. Adapted from Ref.[116], copyright 1997 American Chemical Society. SAM: Self-assembled monolayer.
CONCLUSION AND OUTLOOK
In this review, we highlighted a variety of crosslinked SAMs: (1) aromatic thiol-based SAMs; (2) olefinic- and acetylenic-based SAMs; (3) other aliphatic SAMs; (4) silane-based SAMs; (5) boronic acid-based SAMs; and (6) SAMs realized by hydrogen bonding. Their methods of formation including the conditions for crosslinking, the structures of the crosslinked products, and their interfacial properties were discussed. Furthermore, we highlighted the applications of such crosslinked SAMs in materials science, such as the fabrication of carbon nanomembranes, lithography, protective coatings, surface functionalization, and surface-initiated polymerization.
The rapid development in semiconductor industry has attracted increasing attention from scientists and engineers seeking to develop new methods to fabricate nanostructures for next-generation semiconductor chips. Although it remains difficult to achieve uniform deposition of SAMs at a 300-mm-wafer scale, and stability still limits the application of uncrosslinked SAMs under etching or epitaxy conditions, we believe that crosslinked SAMs are attractive candidates in future semiconductor manufacturing industries. Importantly, with less than 5-nanometer thicknesses, crosslinked SAMs can tolerate extreme UV photolithography and even X-ray lithography under nanofabrication conditions. We hope this review offers insight into the structure-property relationships of crosslinked SAMs, as well as inspires researchers toward the development of new types of SAMs with enhanced stabilities.
DECLARATIONS
Authors' contribution
Prepared the original draft: Yu T, Marquez MD, Tran HV
Edited the draft and added additional written content: Lee TR
Availability of data and materials
Not applicable.
Financial support and sponsorship
We thank the National Science Foundation (CHE-2109174), the Robert A Welch Foundation (Grant No. E-1320), and the Texas Center for Superconductivity at the University of Houston for the support.
Conflicts of interest
All authors declared that there are no conflicts of interest.
Ethical approval and consent to participate
Not applicable.
Consent for publication
Not applicable.
Copyright
© The Author(s) 2022.
Cite This Article
Yu T, Marquez MD, Tran HV, Lee TR. Crosslinked organosulfur-based self-assembled monolayers: formation and applications. Soft Sci 2022;2:5. http://dx.doi.org/10.20517/ss.2022.04